I have always enjoyed the Christmas re-runs of the 100 best horror films or the 100 best singles of all time etc etc. I spent a lot of time in the silent study area at college, studying …. I ate my lunch in the language laboratory to listen to French TV …. All fine proof that I am a true geek. So in the spirit of this revelation I decided I wanted to share a few top 5's with cyberspace and my first is inspirational sports performances.
England's victory in the Ashes 2005 is my number 5 choice for capturing the attention of a nation and still being just dull old cricket. This is a controversial choice with Aussie and non cricket fan Steve. I too am normally horrified when my dad insists on watching another test match that seems to go on forever and that we are sure to lose or even worse draw! However, in the summer of 2005 the series really gripped the nation and I can distinctly remember literally sitting on the edge of the couch watching it. Impressive for cricket! And depressing too because after their greatest triumph the team proceeded to fall apart. Very British.
ASHES 2005

4th on my list is Alistair Brownlee's performance at the Beijing Olympics. The first time I saw this young man was at the Royal Windsor Tri. It is one of the biggest and most prestigious races in the UK and is often a selection race for one Olympic Distance Championship or another. First sight I got was a tall gangly looking boy out in front on the run ahead of all the top English contenders. He was just trying so hard and going so fast and it was such a surprise to me (and I am sure his competitors too). I had no idea who he was. Turns out he got caught but he was, I believe, just 17 at the time and this was possibly his first attempt at the distance. Fast forward a couple of years and he was doing the same thing at the Beijing Olympics. He doesn't seem to care who else is on the start line he just goes for it. Turns out he got caught again … maybe he could have raced smarter but certainly not harder. Roll on 2012.
Paula Radcliffe's first senior title at the World Cross Country is number 3 on my list. She was the undisputed heroine of English distance running but always the also ran on the international stage until this race and it was normally her sprint finish, or people said her lack thereof, that let her down. She was always second best to the dominant Africans but in Ostend, Belgium in 2001 in all the mud and gore she fought back and won in a sprint finish no less! There is a photo of her that explains the emotion behind that win, relief and absolute exultation. Finally she has proven herself and in 2002 she unleashed her winning self in incredibly dramatic style most outstandingly with her 2.15 marathon world record.
The runner up for inspirational sports performance is a legend in my triathlon world. The Boss described Chris Legh as "all heart" and his performance in Kona in 1997 proved that statement beyond a shadow of a doubt. He literally pushed himself so hard that he needed surgery to fix him. The footage of his breakdown just hundreds of metres from the finish line is heartbreaking. Luckily for him he went on to sort out his hydration issues and still competes and wins at the highest level in triathlon today.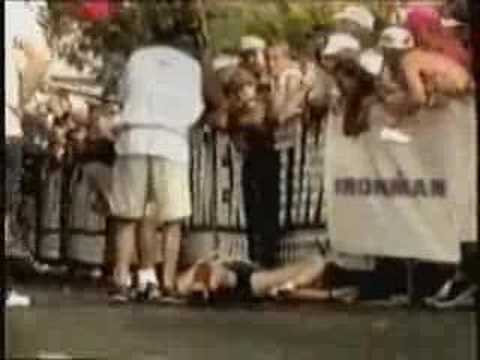 My number one choice has to be Cathy Freeman's victory at the Sydney Olympics 2000 . The pressure and expectations of both a nation and a people were on her shoulders. To see her run and win the 400m still gives me goosebumps. When she sits on the track at the finish she looks slightly lost and staggered not quite able to take in what she has achieved. She would never be the same person or athlete after this race.