I found it on a local market two weeks ago and it impressed from the very first moment with its stunning pink color! Therefore I just called it the TBB fruit, since I did not know the "real" name of this fruit. The TBB fruit is no heavy-weight with usually 400 to 600 g but its stracciatella-ice-like fill is irresistible. Especially when it comes out of the fridge it is a perfect refresher after work-outs in Thailand's heat.
Due to some minutes of internet recherché I found out that the TBB fruit is called dragon fruit or pitaya and originates in Central America. And believe it or not, it is very healthy to; especially the amount of iron, calcium, phosphorus and the vitamins B, C and E is remarkable. With just 50 kcal/100g you can eat as much as 5 kg to reach the recommended daily ingestion
.
At the end some advises for the gardeners
: the black chocolate like dots are the seeds. It is easily cultivated and needs compost containing plenty of humus and sufficient moisture in summer. Never under 10°C in winter!!! The wonderful white flowers of the pitaya can be up to 25 cm in size. Thailand is the most important pitaya export nation. Since moisture is definitely no problem here: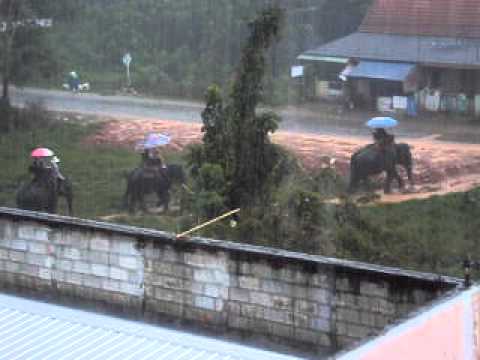 But there´s a snag, it is a cactus with a lot of spines and its branches can grow up to 10m in length! So make sure your garden is big enough
.
Finally I suggest having a vote on the forum pro or contra the dragon fruit as the official Team fruitJ.