As you know, it was really hot in Louisville.
Last year it was not so hot like yesterday.
I swam in the second group. Then push hard on bike.
I saw my watch at the 90km mark, the time was 02:23.
It was my best time.
But then, I had krampy legs, so had to slow down…
Sports drink and gels were too sweet in heat.
There were not so much aid stations and it was so difficult to catch the water pet bottle.
So some athletes got dehydration include Maki.
Maki quit at the 160km mark on the bike.
I start from 11th on run.
My coach said if it's too far to 5th, I had to quit the race, because I'm racing IM 70.3 Japan  next three weeks and Kona.
I catched up until 6th at the end of 1st lap, but there was 8min to 5th.
I decided to quit the race.
It's first time to quit race in my race career, over than 200 races.
But it's good for IM 70.3 Japan and Kona.
I took some photos and video.
Only champion can sit on the man's lap…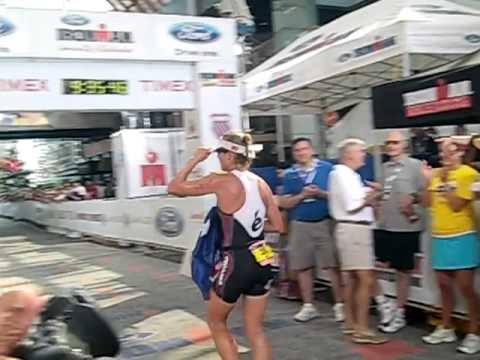 Congratuations Bek!