So to round off 2010 and a year of new experiences, I tried one more new experience. A Mountain Bike. Not one to start slowly, I started my MTB experience with a 900km, 8-day, unsupported tour from George to Cape Town.
The group would consist of Raoul DeJongh, Guy Vesey, Ryan Redman, Collin Allin and myself. We also had Matt Blake with us for the first two days, before he drove our car back to Cape Town, leaving us to pedal there or… Well, we had to pedal there. Period.
For those interested, were riding 3 x Morewood Zula, 1 x Morewood Kwela 29′er, 1 x Black Spade 29er.
We only arrived in George late on Friday evening, and decided it was easier to leave the bikes on the car rather than re-load them in the morning. This meant that I got on a MTB for pretty much the first time about 20mins before starting my first Mountain Bike race. Adjusted seat height, learned where gears and brakes were (opposite to my usual bike – note to self! Left = back brake, left = back, left = back!) and off we go…
It wasn't long before we were on narrow dirt tracks, which was very foreign to me. Suddenly the dirt dropped off in a crazy steep descent. The field was still close together so wimping out was no option. Down we go! Which one was back brake again?! Screw, it pull both… Wow, disc brakes work well! Why don't we have them on road bikes?! Then suddenly down became up… easier gear, quick. Uuhhhh… which lever goes easier? Eenie, meenie, miney… DOH! Not that one. I walked up the +25% hill. No shame in that. Come on. It was only 3km into my first ever MTB ride! Overall the day went great. Such freedom on a mountain bike!
But this was just the beginning of a trip that was indeed, epic. I am going to link to Raoul's blog now, to avoid re-inventing the wheel and he sums it up so much better than me anyway… (and its taken me a month to get this far so…) One of my best life experiences to-date. A big thanks to Guy and Raoul for putting it together and inviting me to share it, and to Collin and Ryan for sharing and making it what it was… Awesome!
Epic Unsupported Tour – Days 1-3
Epic Unsupported Tour – Days 5 & 6
Epic Unsupported Tour – Days 7 & 8
The Video: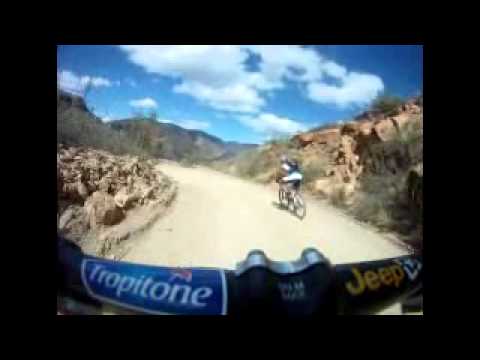 (If that one doesn't work it may be due to music permissions – try this one Epic Unsupported Tour 2010 – No music )