A glimpse inside the Wongstar's superstar accommodations for Florida 70.3: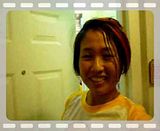 I know, I am the envy of many pros now. Well, we can't all be Asian Triathlon Superstars.
Thanks again to Mark Cathcart, my travel sponsor and good friend. Obviously staying in a hotel room this nice allowed me to relax, get some good nights' sleep, and de-stress before the race, thereby helping me go fast enough yesterday to earn my pro card! So please take as much credit as you would like for my performance and thank you for everything!!
This is my first video blog so I hope you enjoyed it. If you like it and think I should get my own Wongstar reality show, go write to MTV.
Although I will be unapologetic about saying "awesome" every other sentence.
Okay I better finish packing now so I can sit and relax in the hot tub. Because I'm too broke to get a massage this is the next best thing.
But at least now I am an official broke pro triathlete! Next blog will be Disney World!! Awesome!