I get a little excited about hot weather.  This weekend there were some "heat advisories" so I did what any triathlete would do…well any triathlete who wants maximum preparation for a hot race…I drove 2 hours inland where the temperatures were sure to top 100F.  I even left the air conditioning off in my car for extra heat training.
It hasn't been hot at home by the coast; I still wear arm warmers, gloves, vest, leg warmers or tights, and toe covers on the bike shoes when I bike commute to and from work.  But this ironman in Jeju is in two weeks now and it's supposed to be deathly hot.  Maybe hot like China!  China didn't feel so bad after training in the Philippines, but training right by San Francisco in the fog isn't quite the same.
So I went to visit my friend Amy, Asian Triathlon Superstar in training, the one who hated camping at Wildflower.  She'll be doing her first ironman in 3 weeks in Lake Placid!  She lives out in Folsom, just past Sacramento…so since she was spending the bulk of her Saturday doing her long ride, I did some morning training at home (it really was foggy at the beach), then drove halfway and stopped in the wine country for my first hot ride.  I was already sweating buckets in the car from my no-A/C heat training.
Google told me:
Weather: Napa, CA
100F (38C), Clear
Wind: W 1mph
Hum: 41%
I kitted up in my Avia jersey, yanked the fleece-lined toe covers off my shoes and left the gloves in the car.  Off I went and well…huh…doesn't this hot breeze feel familiar.  It's been over 2 months since I left Asia and my body needed a harsh reminder.
30 mins in: Gosh my Gatorade sure is warm.
1hr in: Wow, now my Gatorade is hot like the hot tea I drink in the morning, or the chicken soup Mom makes for dinner.
It is workouts like these when I sometimes think the race itself is not as hard as the training.  You've got your catered aid stations with cold drinks and ice…then again…
1.5hrs:  time to turn around!  I could really use a refill of something nice and cold…
At the gas station in Calistoga, I grabbed a bottled Starbucks frappuccino and some more Gatorade, went up to pay when suddenly I saw it: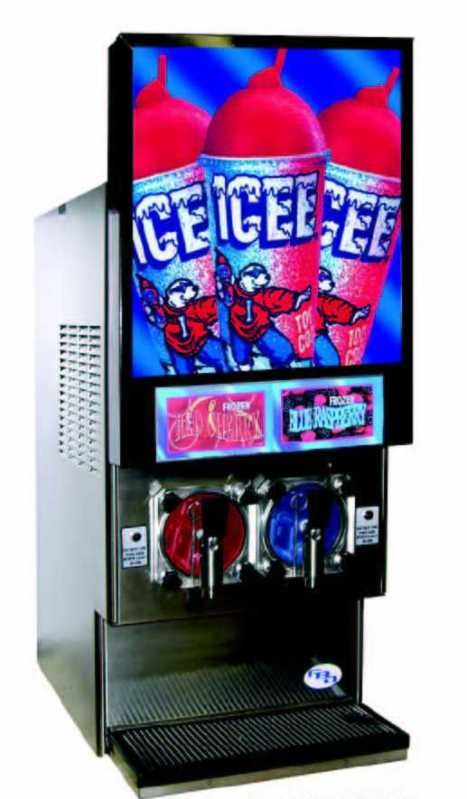 And it was like the sun came out and the angels started singing.  (I am being facetious as obviously the sun had already been out and roasting me.)
***I would like to take this opportunity to thank you, Mr. Omar Knedlik, inventor of the ICEE for being a hero to all of us who suffer in the heat and cool down by drinking your ICEE's and Slurpee's.  (Slurpee at 7-11, FYI, is actually a licensed ICEE.)  May you rest in peace.***
So then I think maybe the race IS harder than the training.  Because we don't get ICEE's or Slurpee's at the aid stations.  I wish they would get on that and sponsor an Ironman already!
The rest of the ride was pretty uncomfortable, but I told myself that Korea is gonna be hotter, so HTFU, Wongstar.
When I finished, I blasted the A/C for the first 10mins driving to Amy's, then went back to "heat training" in the car.  Amy is looking super fit and I'm jealous at how much arm muscle she's grown since I last saw her.  My skinny arms seem to be wasting away like weak sauce in comparison.  Ripped they are not!
This morning I went for round 2 in the heat on the bike.
It didn't feel too bad starting out, of course, because it was in the morning.  But it was heating up.  Yup, I was sweating buckets.  And I had to stop a couple times for some cold refills (no ICEE's or Slurpee's today unfortunately), and drank the most I've drinken recently during a 4.5-hour ride: almost 6 bottles.  Towards the end it didn't feel as hot as yesterday though.
Google said:
Weather: Folsom, CA
103F (39C), Clear
Wind: S 3mph
Hum: 17%
So just two rides in the heat and it felt more tolerable today for sure!  I think my body adapts fast.  :)  I was actually a little disappointed I couldn't stay and ride later, as today's high was supposed to be 110F (43C).
Folsom is actually a really gorgeous place to train, it's not just full of them prisoners that Johnny Cash sang to.  Today I did a loop around Folsom Lake and there were tons of cyclists out.  I've done a couple of local tris in this area, the Folsom Olympic Tri and the World's Toughest Half in the neighboring town of Auburn.  My race reports are actually buried in this blog somewhere…  I couldn't resist taking some pictures with my camera phone:
Ironically there was a vet hospital right across the street from this sign.
up and down, up and down, great views but you had to work for them: