How to Become an Asian Triathlon Superstar, Step #24:  Never apologize or make excuses for your successes.
Apparently there is more to being an Asian Triathlon Superstar than just winning an ironman.  :)  As soon as I arrived in Switzerland, Coach made it clear that he didn't approve of the apologetic tone of my prize money blog.  So I will not apologize for this coming an entire 3 weeks after the race…hey it has been the most eventful July of my entire life and I haven't even blogged about the latest drama.  Let's just say the Alpe d'Huez race report will be a little different.  And I will also not apologize for how incredibly long this race report is either.  :)  The short version is called "just scroll through all the fabulous pictures!"  Photo credits go to my friend Michael Wright, Ahn (a local ultramarathoner), Kim H.S. of Geocycle, and the official photo crew at sportshot.co.kr.
My journey to Jeju began by successfully tricking the jetlag fairy.  I pulled an all-nighter on Tuesday nightpacking for my 3-month trip, flew out Wednesday after lunch and slept nearly the entire flight, which arrived in Seoul on Thursday night.  I was tired enough to fall asleep when I got in, and promptly woke up around 5am each morning leading up to Sunday.  Getting up before 4:30am on race morning was actually less painful than usual.  This race would be ironman #7 for me.
Jan and Dan picked me and Cam up at the BlueHill House–they were running late as Jan was doing a 7k warm-up run on the treadmill (!!!).  After the usual transition set-up, I waited at Jungmun Beach in my BlueSeventy wetsuit, surrounded mostly by Korean triathletes with directions being called out in Korean.  The ocean was looking anything but calm and flat like I had hoped and prayed for…but then again this race is notorious for having a very tough swim with big waves.  The swim has actually been cancelled twice in the last 5 years, I was just in denial.  Cam gave me a 2-minute lesson on how to negotiate the waves and it was fun to practice, kind of like playing at the beach.
As it grew closer to 7am, I stood by Korean triathlon superstar Park Byun Hoon and asked "so how do I know when we're about to start?  Are they going to say anything in English?"  He just laughed and within a minute, the start gun fired, off we went…only it was more like a bunch of us ran into water and stared at the wall of water that was about come crashing down on us.  I dived under the waves again and again, trying to go like Cam had taught me, and I would have to say after the third time, it was NOT fun like playing at the beach.  When I finally got past enough of the big waves, I found myself swimming with a rather large pack of age group men.  And by "swimming with," I mean water polo wrestling with.  I was smacked on both sides, had my ankles grabbed constantly, and was put in a headlock once or twice.  I tried to do a place-press-push but it would get interupted by contact with various guys.  It was more like place-press-SMACK GRAB place-WHACK, kind of like those old Batman TV episodes.
Apparently Asian triathletes are notorious for being bad swimmers so I had a lot of company.  I got out of the first lap and my watch said "10:24″ WOW a 10-minute first lap!  that donut must be working!  Ok, not so much, guess the watch got a good smacking too, I switched over to the time and it was 7:37am, so 37mins at the most for the first half–a big improvement at least over Ironman China, where I got lapped by Tereza
 I was feeling pretty good starting off the second loop and actually pulled away from the main group, but halfway to the first turn buoy, the sea became even choppier and I found myself fighting off waves of nausea.  I stopped swimming multiple times because I was very close to vomiting, and I very much knew that the last thing you want to do in an ironman is lose all the calories you have stocked up on for the rest of the day.  A calorie deficit from hurling your breakfast is the worst way to start off a 180k bike ride.
A bad swim for me (and yes my last 3 ironmans now) is always the lowest point of my race day, and there were moments in the water where I wasn't quite sure I would even finish that damn swim.  Ridiculous as that sounds, that was how bad my stomach was feeling and it was all I could do to keep my head together.  I made a deal with myself, "it's ok to swim slow, just don't throw up, ok?"  I visualized swimming in calmer waters, remembered ocean swimming with my friend Virginia at the Santa Cruz pier back before she had her baby.
Finally it was over and a final wave hurled me onto shore without me hurling the contents of my stomach, or a "reversal of fortune" as they call it in the competitive eating world.  I had a pretty sad face coming out of the ocean and a rather slow transition as I tried to regroup.  The 1:28 I swam was faster than my China swim by maybe half a minute, but I am NOT a 90-minute swimmer in reasonable swim conditions…  In the end I was very grateful to be on solid land again, and Khan the Warrior Horse was happy to see me too.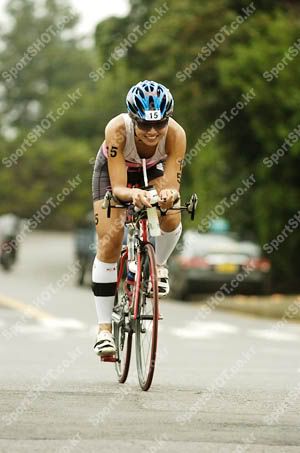 I gave my stomach some time to regroup as well.  I couldn't shove down as many Hello Pandas down my throat as I wanted, there were a few moments on the bike where I kind of vomited in my mouth a little (too much information?  hahahahahahaha) which was my body's way of telling me to ease up on the Hello Pandas, and I listened.  :)  I knew the first half of the bike was relatively flat with the hills cropping up from around 90k to 130k.  So my plan was to hold back that first half and crank it up over the hills.  Turns out it was an extremely windy day; the first one-third of the bike (up to 60k) I think we even had a nice tailwind and I was easily averaging a 5:15 pace, moving steadily through the field.  I had looked at race results from previous years (those with a full pro women's field) and knew that a bike split under 6 hours would be pretty good for me on such a hilly course.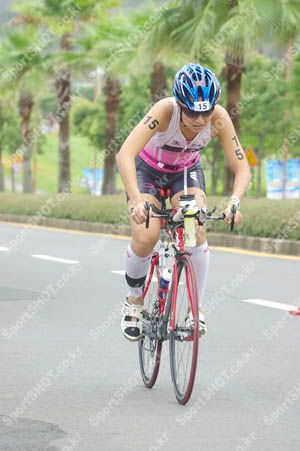 Once we hit the turn-around at about 60k, I felt the massive headwinds which also became crosswinds as we started climbing up and through the fog.  There were more exposed sections of the course where I felt some very large gusts of wind hit me sideways, but nothing so bad that I had to get out of my Oval aerobars.  After the race, the pro boys told me it was windier than Kona and they were definitely getting blown around pretty strongly!  We realized that I didn't have it as bad because I was on my trusty old training wheels–no race wheels for me until I demonstrate a bike split worthy of race wheels, as Coach says, and it didn't occur to me that this would actually be an advantage for me on such a windy day!  It seems that some of the guys had to get out of their bars and ride the brakes quite a bit.  ;)
It was also very foggy with low visibility as we got closer to the top of the volcano; actually this felt familiar to me, like being at home in Pacifica!  In grade school we would play "hide-and-seek" in the fog at recess.  :D  The only difference is that when training in the fog, you aren't going balls-out…so I did slow down here and there as it was hard to anticipate when you were going to hit a steep up- or downhill, a sharp corner, or an intersection with potential cross traffic.
My pace definitely slowed once we hit the hills, but I also noticed that there were less and less age group men around me, and by 90k there were long stretches where I was completely alone.  I would have to say it was a pretty clean race drafting wise for the women's pro field
 I would catch up to some groups of age group men riding together and felt like asking sarcastically, "Oh, is drafting legal in Korea?" but was pretty sure they wouldn't understand.  And obviously if I was catching them, they were too slow for me to ride with legally or not.
At 130k the hills had slowed my average speed back down to about 6:00 pace, but this was the end of most of the climbing.  After a bit more of the up and down all the way to the finish, I was relieved to return on the main road to the World Cup Stadium.  I actually overshot the dismount line and was told to back up so I wouldn't get DQ'd!  I ran to the women's change tent.  My friend Michael Wright, who is a fellow California brother that has been living in Korea about the past 10 years, and very involved with the Seoul Synergy triathlon team, was also the English race announcer.  He asked if he could come inside to take pictures and since I wasn't actually changing, why not!  No one else was in the tent, and he told me I had ridden up to 15th overall.  Awesome!  Funny since I was also bib #15.  I threw on my Camelbak and Avia Avi-Rhythms, grabbed the magic running sticks and off I went!
As soon as I got onto the run course, there was a mountain bike escort waiting, with a sign that said "Female 1st" in both Korean and English.  WOW!  I get a lead bike!  It was cool having someone to run with, except that he didn't speak any English and went way too far ahead of me.  He was going a bit faster than I was and would sometimes have to stop and wait.  Still it was cool having him to chase down, but eventually I felt sorry for him for having to bike so slow for almost 4 hours.  He had to have been bored.  But it was cool that having him alerted a lot of spectators on the road, and in cars, and volunteers, that I was winning the race and I got a lot of Korean cheers!  I have no idea what they said, but it sounded encouraging
The run course is what I would call "undulating," all up and down on the same stretch of road, out-and-back for 3 laps.  Much hillier than I expected, I guess I wasn't paying attention all the times Cam and I hailed a crazy taxi ride to the stadium for pre-race stuff.  I think we were usually fearing for our lives and making sure we had our seat belts strapped on.  The cool part was there were two "grandfather" statues, one at each turnaround point for the run.
Every kilometer was marked on the ground, and since each of the 3 laps were 14km each, I counted down my km's 7k or half a lap at a time.  During the first lap, I saw there was one other woman already out on the course…on a relay team!  She looked pretty strong but by the 2nd lap I decided I had to catch her.  Relay team or not, I wanted to be the first woman across the finish line!  There were also a lot of cameras taking photos of me, and a videographer would come by on the back of a motor scooter to get some video coverage.  Totally cool.  I smiled a lot but I was also pushing myself pretty hard so I alternated between the serious very focused look and the Wongstar smile.
In my mind, most of the run kind of blurs together, other than more competitors getting onto the course.  Since it was a 3-lap course, the special needs station was not at halfway but at the beginning of each lap, so I decided to do my Camelbak switchover at the beginning of lap 3 (28km).  I finished my enhanced Gatorade in the first Camelbak bladder right on schedule, around 21km/halfway through the run, so I made sure to drink some Gatorade at those 7km's of aid stations until I got my rocket fuel refill.  I even grabbed a slice of watermelon at one of these aid stations, it was the only solid thing I ate on the entire run and it was great!  My bike escort almost lost me as I was enjoying myself.
I was very happy to hit 28km and switched out my Camelbak bladders.  The Wongstar Special Rocket Fuel (3 bottles of Starbucks Mocha Frappuccino slightly diluted with water and some bonus electrolytes for good measure) was actually still cold at that point.  Freezing it overnight worked well!  Yum.  I made sure to sip some of my "iced coffee" every time I hit a km marking and definitely felt a boost.  At one point I was passed by a woman who blew by me pretty strongly.  But my lead biker didn't go with her, and I didn't remember seeing her the first two laps.  She seemed to be going faster than I was, and I was pretty sure I was one or two laps ahead of her.  But at that point your brain doesn't work so well, and I couldn't quite shake the illogical feeling that this age group woman had caught up to me and passed me, even though I hadn't seen her all day.  Maybe the lead bike stayed with me because I was the only pro woman?  Well I certainly couldn't let an age grouper beat me!
I felt my pace quickening and managed to catch this woman, who was in fact either one or two laps behind, and soon enough, there were only 9k to go, then 8, then 7… I hit the last turnaround and started to get really excited!  My legs were toast at that point but thinking about winning my first race put a bounce back into my step.  My fellow competitors and my lead biker really started cheering me in at that point, I tried to give a smile and thumbs up.  I ended up picking up the pace through the final km's and even caught a few more guys.  By then I was absolutely beaming and cheered for the guys I chicked with the biggest smile, which I'm told was heartbreaking.  Ah, always better to be the heartbreaker than the heartbroken.  I found out later that I had moved up to 9th individual!
The best part was the finish line celebration!  I got to give high fives and break the tape as Korea Triathlon Jeju women's ironman champion!  The silly videographer was on a coffee break and totally missed my finish, so instead you can enjoy this photo montage:
Then they hosed me down, which was fun for the first five seconds.  But it really wasn't that hot!  Well nothing compared to China is hot any more, I think my sense of temperature is permanently warped.
I had to take a photo with my bike escort.  We spent almost 4 hours together!  He actually bitched out the traffic controllers for me at one intersection when they weren't doing their job and let a car cut in front of me.
The next day I got to give out my first victory speech.  Everyone said I won first place for best smile!  :D
They gave me a bouquet of flowers, a winner's certificate that looks like a restaurant menu, and a phallic trophy of one of the grandfathers.  Someone told me that he's a fertility god.  
Winning is the best!  I can't wait to do it again.