As I mentioned in my forum thread, I was very excited (and totally but pleasantly surprised!) to flip on the TV and catch the end of the women's marathon at the Track & Field World Championships in Berlin last weekend.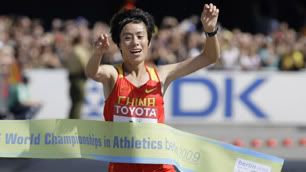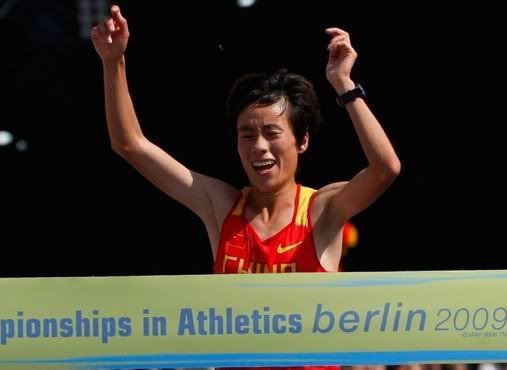 The women's champion, Xue Bai of China, is only 20 years old and did her first marathon when she was 14.  When I was 20 years old, I did my first marathon…during my first Ironman.  It took me over 2 more hours than Xue's 2:25.
So China took 1st, 4th and 5th, winning the team title as well.  Japan took 2nd, and Ethiopa took 3rd.  WOW, 4 Asian women in the top 5, and 3 of them were Chinese!  What happened to the Kenyans?  They were 6th in the team ranking.  The Americans didn't do so good either…our top girl went 10th and I think ended up in the medical tent.
Now when I go running, I try to identify more with my Chinese side.  ;)  Coach does the same thing here–whenever I do or say something dumb, he grumbles something about stupid Americans…but if I do something like race well, he'll say it's because I'm Chinese and I'm tough!  :)
I even have the matching shorts, remember?
They are actually the only casual shorts I have here.  (Yeah, I'm so proud of myself for packing light…my casual bottoms consist of one pair of jeans, a jean skirt, and these shorts.)
I just really hope none of these Chinese runners are taking any illegal "turtle juice," as Bek would say.  I was SO disappointed when I found out Marion Jones had been taking performance-enhancing drugs.  She was winning everything when I was a geeky and impressionable little high school runner.  I even bought a copy of her autobiography.  Stupid American.
At the track today, Coach even told me I actually looked like I was running!  Yes, that's what we call a backhanded compliment, but I'll take it!  Clearly I have been inspired and am starting to embrace my Chinese marathoning blood.  It's in there somewhere.  Maybe I will even get under 3 hours someday, I mean if all these Chinese girls can go under 2.5 hours, surely I can go under 3!  It may take a few years…or more… but I am a patient little Jedi.  Just keep training hard and consistently, and work on my heel-strike to perfect the Wongstar Shuffle.
Also makes me wonder how fast I can run an open marathon.  I have never done one, I just race them when they are preceded by a 3.8k swim and at least a 180k bike ride.  ;)  Otherwise I do them in training without the swim and bike warm-up.  I don't really have any desire to race a marathon by itself though, I kind of think I would go just as fast as I do in an ironman…speaking of which, my friend Amy pointed out that I qualified for the Boston Marathon at Embrun!  Haha, well if I keep cutting down my marathon splits by over 20mins at a time, soon I will get the men's qualifying time…that's a 3:10!
happy running,
an inspired and very Chinese Wongstar