Well, it is the final semester of my freshman year at Sutto's Triathlon Academy.  Our campus has moved to the beautiful island of Jeju in South Korea and classes have just gotten under way.  Most of the other students here are upperclassmen and studying hard for their final exams in Kona, Hawaii.  Then there's James, who enrolled with me last fall but seems to have skipped a few grades already.  However, an average frosh like me (below average??) is here to learn even more from Headmaster Sutto in preparation for the next few years of school, and life beyond graduation.
The seniors don't really have as much homework as I do.  The headmaster likes to assign me what I call "YouTube homework," which is kind of like what I imagine taking that "Film Lit" class in high school would've been like.  (I wouldn't know, I looked down on that "class", I was a supernerd remember?)  Then again some students do get blogging homework, but since I rather enjoy blogging I find it more like "extra credit."
How to Become an Asian Triathlon Superstar, Step #26:  Ace all your classes at the triathlon academy by doing your YouTube homework, and always listen to the headmaster.
Swimming 101:  Freestyle Stroke Technique.
As a freshman I am learning to work on my technique more than the seniors.  We all have different swimming styles and after the headmaster subjected me to countless research experiments over this past year, he came up with a scientific conclusion as to what works best for me in the water.  Which is different to the other students here.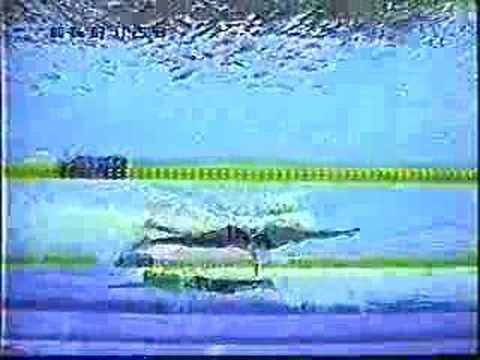 So it is good homework to watch the great Aussie Grant Hackett so I can learn to swim faster and get an A+.  Previous swim homeworks featured Janet Evans….
…but I got a big red "F" on that assignment.  Hmm.  I got a lot of F's in Swimming 101, that is why I have to keep repeating it.  This is a lot harder than high school.
My next course is Running 202: Mastering the Shuffle.
We are lucky enough to be able to do our track sessions with the Korean national team at the Marathon Center.  On my first day at this class I showed up late after getting lost (dumb frosh, I should probably take some extra courses in Navigation and Korean Language Skills), and almost missed the Korean race walking athletes.  One guy was in lane one blowing by all our runners!  WALKING VERY FAST.  Another girl was doing all kinds of drills to practice her cadence and heel-strike.  Since the first semester, Headmaster Sutto has been giving me many YouTube homework assignments to master the shuffle, but YouTube just doesn't compare to seeing the elite race walkers in person.
Alas, you are not here at triathlon academy with me, so here is some of my YouTube homework from this course:
You can also play two videos at the same time; I was assigned to have this song playing in the background while watching the above video:
Walk this way…heel-toe, heel-toe…it's a little hard to see, but even the guy on the Korean crosswalk sign has got the heelstrike down!
The race walking video is from the 20k women's race walk at the Track & Field World Championships in Berlin last month, and I was pumped to see a girl from China shuffle into 3rd place!  Since I am supposed to be "running" more like a racewalker, she is my new hero rather than Xue Bai, who won the marathon title.  Her name is Liu Hong (here is a profile of her) and she was 4th at the Olympics in Beijing as well.  In my internet stalking, I came across some photos of her with KILLER ABS:
Holy crap, right??!  Sweet baby Jesus, I have never seen such a magnificent six-pack on a Chinese girl (or guy for that matter) or anything even close to it!   …I know this is very hard to believe, but as awesome as I am, I certainly don't have abs quite like that (YET!!!). 
Funnily enough, the requirement for getting an A+ in my Nutrition 123 course is by getting those six countable abs.  My progress reports indicate improvement, but I still have some work to do.  Obviously I can no longer use the excuse that Chinese girls are incapable of getting that ripped.  Well, you can bet that getting a superstar six-pack is on my list of goals in addition to breaking 3:20 in the marathon and going sub-10 in an ironman!  Vain, you may be thinking, but really I'm just trying to get a 4.0 GPA. 
So unfortunately with all my F's in Swimming and mediocre grades in Nutrition, I am already out of the running for valedictorian here. I did manage to score high marks in HTFU 101 and 102 though (exams were in Haikou, China and Embrun, France) and I'm not giving up on being voted "Most Likely to Succeed" in the school yearbook…heck, even if I only get voted "Best Abs" by the time I graduate, I'll consider my time at this school worthwhile!!