So I officially got 8th pro in Cozumel after all and went to the awards banquet…you never know if you'll get called up. In Florida I got 10th and they only called up top 8, in China this year I got 8th and only top 5 got called up. In Embrun I got 5th and they called everybody up! (And yes, there were more than 5 of us.) It's the moment a triathlon superstar dreams of: getting called up on stage, smiling your big cheesy superstar smile, and waving at all your adoring fans.
So the First Mate and I borrowed an extra race bracelet (thank you Bean) and decided to brave the food at the awards banquet, held at the Moby Dick Show Center.
There were some pretty cool fire dancers there to entertain us but I was too hungry to take photos. I was intrigued by the trophies though:
Turns out only top 3 in each age category and top 3 pros got a head trophy and called up. So next year I must get a top 3 to get called up for sure. I guess that's why they call it the podium!
Interestingly enough only Rutger got to make a victory speech. I was a bit appalled that Yvonne didn't get to make a speech! Not sure if that was intentional or if she didn't want to make one. (Who wouldn't want to make one? I like to fantasize about what I would say in a big victory speech when I am out training…)
Awards ceremonies can sometimes be a drag but I still find inspiration in seeing the really fast people go up on stage. My mom came with me to my first two ironmans and sat through awards with me even though I was FAR from podium'ing as an age grouper. I remember telling her "I want to be up there!" and she said "You will some day." I hit the age group and collegiate podium on the next try (3rd time's the charm) and remember Mike Reilly (or maybe it was Graham Fraser?? crap, I don't remember…one of those guys!) was saying "These young ones are the future of Ironman racing!" I thought "yeah right. I didn't even break 12 hours." I never imagined I would actually be shooting for a podium in the pro division 5 years later.
After all the awards, they put some traditional Mexican dancers up on stage and then threw in two roosters for a cockfight! First Mate couldn't watch. All I could say over and over again was, "isn't this illegal where we're from?" And Bean, well, be glad you weren't there, Bean. The Bean would not approve!
Instead we looked for an after party…
It had fabulously kitschy beach decor and hilarious signs advertising their drinks…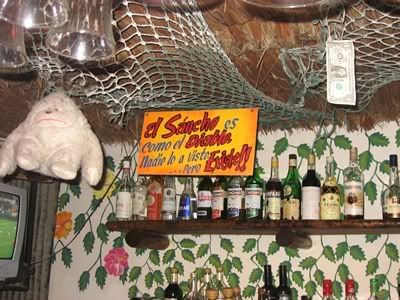 I worked at Red Lobster one summer and once spilled two big Bahama Mama drinks. Luckily they hit the floor before they hit my customers. I'm slightly more talented at triathlons than serving tables. I think.
Indeed I ordered a Volcano Tiki. It was my one umbrella drink for the trip and something that surely I thought about during the race itself…
Race report in progress…check back soon…!