It's 22 days into the new decade so hey, why not do a recap of the last decade?
It was after all, my first decade in triathlon.  I wonder how many more decades will I still be doing this insanity?
2000:  Freshman year of college: watched my first triathlon, Ironman California!  Did my first sprint triathlon.  Signed up for my first Ironman.
2001:  Got my tonsils removed instead of doing my first ironman.
2002:  Did my first Ironman!  Also made sure to do my first Olympic (Wildflower) and my first half-ironman (before they were called "70.3″'s) during the build-up.
2003:  Graduated from college.  Did my 2nd Ironman.
2004:  Took a short break from Ironmans.  Went to grad school and rowed for the crew team instead.
2005:  Decided I missed Ironman…and did Ironman #3.  Broke 13 hours for the first time.
2006:  Graduated from grad school and then did Ironman #4 in my first time outside the USA (Canada, does it really count?)
2007:  Got accepted onto teamTBB as a development athlete.
2008:  Ironman #5 in China!  First stamp on the passport.  Broke 5 hours in a half-ironman for the first time.
2009:  Ironman #6, 7, 8, 9, 10, and 11.  "Went pro."  Broke 12 hours.  then broke 10 hours.  Also had to get more pages added to my passport.
For the new decade, I've decided to step it up.  Since I've been told that I've already achieved Asian Triathlon Superstar status (debatable and highly controversial, oh yeah!), then it is high time to raise the bar.  Now I want to be an international triathlon superstar.  Coach told me from the beginning to shoot for the moon, and even if I miss I'll land among the stars.
Believe it or not, my star status has risen so much that I actually get the occasional hatemail or have trolls arguing on internet forums whether I am a superstar or not, or that I'm not technically Asian, and have been called naughty words my mother wouldn't approve of.
Well sticks and stones may break my bones, but words will never harm me.  To tell you the truth, I am quite amused and kind of flattered to be getting such hatemail because why should anyone care anyway?  I was a complete nobody a year ago and I still don't see what the big deal is.  Clearly this is proof that I really am I big deal, no?  ;)
The fans out there far outweigh the number of haters so it was high time to rally up the fans.  My sister has been on me to start up a fan page on Facebook to help build up the Wongstar brand since many of my FB "friends" are actually fans I've never met.  So here you have it…
How to become an International Triathlon Superstar, Step #1:  Start up your own official fan club. Yes, it's called "I <3 The Wongstar".  Click here to join or on the screenshot below!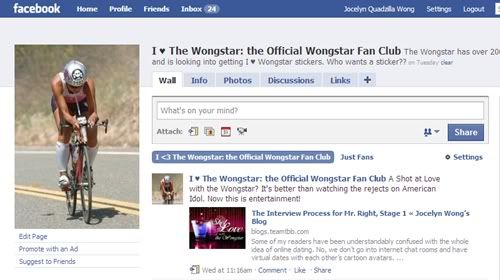 You can stay up-to-date on where I am and what I'm doing in the world, know when there is a new blog post, suggest ideas for this blog or what you want me to write more about (the dating shenanigans seem pretty popular), and when I'll be coming to a city near you.  Like "Meet the Wongstar" night in KL (Feb 1st!).  In the near future there will be official fan club stickers for your car/bike box/etc., a way to order custom autographed photos and magic running sticks; someone has even suggested T-shirts.
And yes, there is an official logo in the works!  Being famous is hard work, but never fear, a superstar like myself can handle it.