…about the new WTC rules regarding prize money–given to you only if you finish within 8% of the winner's time: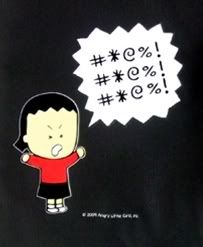 I sure could use $1,900 right now.
For good measure, I am also shaking my fists…

to the people who say I shouldn't get paid for swimming a 1:18 anyway…
…and here are a couple of middle fingers…


…for the people who actually think I am content to be a bad swimmer and not doing anything about it.
Other than that, I am really quite pleased with my 5th place this weekend. It was intended to be a solid training day (that I was hoping to get paid for) to prepare for Ironman China. Mission accomplished, great training day, my first top 5 result in the pro field at an M-dot race and a reminder of what it's like to do an Ironman in hot & humid conditions. Race report and race photos to come soon.
Thanks for all your support!