How to become an international triathlon superstar, step #7: Embrace the fame and enjoy it while you can, where you can.
This is the third consecutive year I've come to Haikou, China for the Ironman.  2 years ago I was a very scared and unfit age grouper, it was my first race as a teamTBB development athlete and the Boss had thrown me into the pro division.  I melted in the heat and finished in 12:44.
Last year I had a terrific race and took an hour off my time, finishing in 11:08 (a new PR at the time), thrived in the heat with the 3rd fastest run split and ended up on the ESPN International broadcast as the featured athlete. Actually, I had to convince the producer, Peter Henning, to put me on TV. I told him I wanted to become famous. Nobody really knew who I was or really cared!
Well this year–be careful what you wish for?? NIGHT AND DAY. I have improved so much over the last year, and the 2009 ESPN broadcast of Ironman China has been played on a continuous loop here on the host hotel's TV channel. I got a cover story on Ironman.com, and a huge mention (the first pro woman mentioned actually) in the race preview. I'm even the first athlete profiled in the race program:
I have, indeed, become Ironman China's "media darling."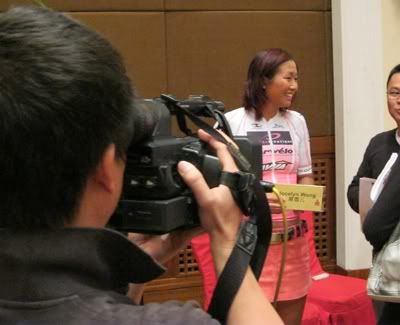 So, what is it like to suddenly become famous? Well let me tell you, as I've also documented this quite well; life is short and who knows if it's just my 15 minutes of fame!!
In line for the flight to Haikou the girls behind me saw the Wongstar Hello Kitty bike box and the new punk red highlights in my hair (good luck red for China) and asked if I was a rock star. "Kind of," I said, slightly amused and only half kidding.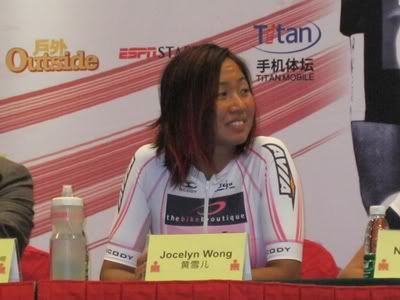 When I went to get registered for the race and pick up my race packet, the whole room of volunteer girls started SQUEALING. I'm completely serious. They've seen me on TV and think I am some kind of celebrity. And I am. Right. I kind of am. I was swarmed for photos. SWARMED! "We've been waiting for you all day," they told me. "We only go crazy for you!!!"
I was invited to my first press conference–ok I know I said Ironman Malaysia was my first press conference, but really any and all of the pros that showed up were told to get up on the table. Here there were only 6 of us that were invited, and with special name tags too (with our Chinese names). World champ Chris McCormack, Lothar Leder (first guy to break 8 hours), and then multiple Ironman champions Luke McKenzie, Nicole Leder, and Heather Gollnick.
No, really…it blew my mind to be sitting at the same table as these athletes. Macca was training in Southern California and winning all the local races when I was a total newbie, teenage triathlete in college there 10 years ago. He introduced himself to me today, already knowing who I was.  I had always seen the names, Lothar & Nicole Leder, and the night before she came up to me to shake my hand and said "ah, YOU must be the famous Jocelyn Wongstar!!"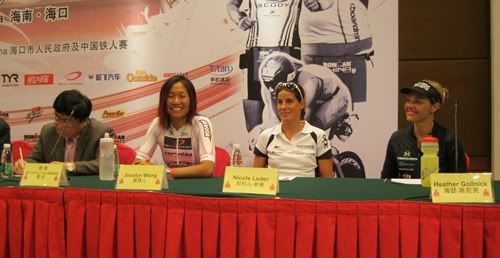 And Heather actually won the first Ironman I ever did–Wisconsin 8 years ago. How am I sitting at the same table with them, and they think I'm the famous one?!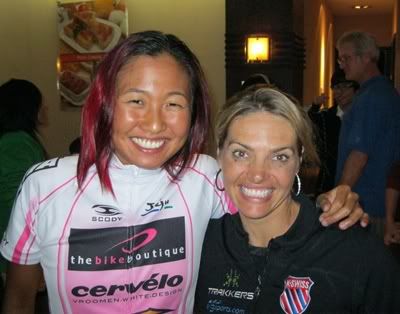 Lots of interviews followed the press conference.  I lost count of how many times I've been interviewed here. I can say that I'm the only pro triathlete here with a real Chinese name–the rest of them had phonetic translations of their English names.
Some of us were also invited to dinner at Coffee World/Pizza Corner, the food and beverage sponsor of the race. A lot of local media, fans, and other racers were invited to ask us questions and meet us.
Dong Qi is the local Chinese triathlete who also raced in the pro category in 2008. I actually finished about 15 seconds behind him and we are both planning to go hours faster this year! He is the local favorite for guys, and apparently I am the local favorite for girls.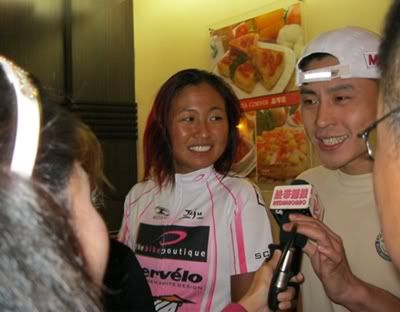 This girl wanted my autograph: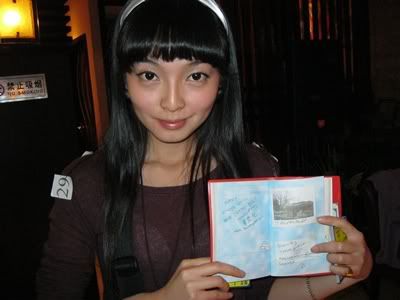 And then the photos. Photos and autographs…
More interviews: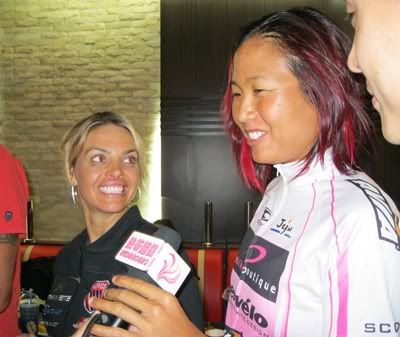 The local news station wanted to take video of me running and biking and have me say something cute in Chinese. "Cheer for me on Sunday!" which I totally slaughtered phonetically but apparently got the accents correct. So after a day of interviews and appearances, I managed to get back to the hotel room in time before the carbo dinner to catch myself on TV!
Almost anyone who gets in the elevator with me recognizes me and every other person who walks by as I blog in the lobby waves. Sometimes I hear whispers of "Wongstar" as people pass. I've been meeting people all over the world who are following this blog!! People keep asking to take photos with me when they meet me in the lobby or hallway or during dinner or the expo.
It's INSANE. The whole thing is just crazy.
And I absolutely love it!
The day this becomes NORMAL at all my races will be madness. And you'll be sure to hear about first!