This wasn't quite how I envisioned my third attempt at Ironman China: less than 1km from the finish line, kneeling in the middle of the street in downtown Haikou with some random Danish guy's head in my lap for over 20 minutes. The worst part of the whole picture might be that I had only run 16km–I was only completing the first lap of my run.
But let's put this in perspective. I was not the one having a bad day. I was shuffling along nicely when I came upon the two Danishes, Morten and Andreas. Morten (in the red) was only 1km from winning his age group and badly cramping up. He was being supported by Andreas (in the white) who like me, was only 16km into his run, and so we both decided to help Morten limp his way to the finish line. There is the "no outside assistance" rule, but nobody ever says anything about getting inside assistance from your fellow race participants.
By that point, what did I have to lose? I had already been going so slowly that I was over 2 hours behind the women's champion, my teammate Amy, and the difference between 13 or 14 or 15 hours was no matter to me, I just wanted to reach the finish line eventually. Given the opportunity not to be a selfish pro with the "every man for himself" mentality on this day, I leant Morten a shoulder for the next 20 steps.
Then he got the crazy eyes. He had to stop. He had to lie down. I hailed for medical staff in my best Chinese, which came out of my lips in various dialects; good to know it's in there somewhere for emergency purposes. Morten would get carted away in an ambulance and wake up in the medical tent later on, not even realizing that the race had started. He didn't remember me the next day either.
No. In perspective, I wasn't the one having a bad day.
I had a really long and detailed and drawn out version of a race report I began on an airplane somewhere, but I think no one really wants to hear all about the over 14.5 hours of the longest Ironman of my life. I don't want to dwell on it either, so I'll just go over it a bit more concisely than usual. Which will probably still be longer than most people's race reports.
I woke up at 3am feeling terrible, feverish with a strong desire to vomit my guts out. The vomit wouldn't actually come out until halfway through the swim so I just went into the race telling myself "you're just nervous" because I wasn't sure what was wrong with me. Now I'm pretty sure it was some food poisoning, but didn't know at the time.
Big thanks to Dughall from Singapore who lent me his extra BlueSeventy wetsuit–the river was unexpectedly cold and our new 2010 suits hadn't yet arrived. I got out in 1:11, not as terrible as a 1:18 but not great, and actually beat another pro out of the water! Who knew that the swim would actually be the best part of my day for once?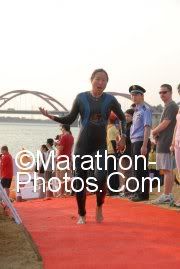 On the bike was when I realized I couldn't go very hard or fast at all without feeling the bile rise in my throat, so I could only go very slow to avoid vomiting or passing out and crashing. I tried to be annoyingly optimistic as usual and just thought if I took the first hour easy, things would come around. After 2 hours, things still hadn't come around, and I was crawling along but I made it my goal to finish the race, and decided to play it as smart as I could.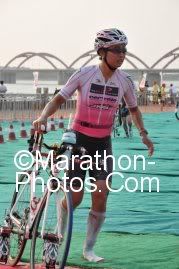 I made sure I stayed hydrated and was able to get down bananas and water, even a little bit of Gatorade, when I stopped at the aid stations for some rest breaks. Indeed, it was like a "glorified century ride." If I went slow enough I wouldn't get the pukes. The hardest part was mentally fighting the demons that told me every 5 minutes to drop out of the race.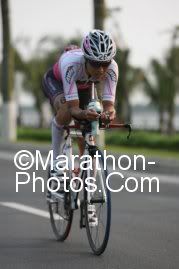 At about 80k I passed a Japanese girl walking her bike and crying. At this point I wasn't passing anyone riding a bike, just the ones walking their bikes…
It was Kana's first Ironman and she had gotten two flats and was out of tubes and CO2. So I gave her a big hug, a tube, my CO2′s, helped her change the flat, offered another hug and off we both went. Kana would end up finishing the race and even took 2nd in her age group.
All I was thinking at that point was back to my very first triathlon, a super-sprint, where I got a flat during the 7-mile bike ride and didn't bring anything to change it…because it was a 7-mile bike. I sat on the side of the road pouting for a while until a very nice man threw me his flat kit and said "well I'm not gonna win this thing" and saved me from DNF'ing my first triathlon. What goes around comes around.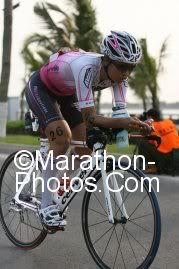 I got pumped full of endorphins after my little mechanical support episode and actually felt great the next 20km, which took me through transition and the first 10k of the 2nd loop. This helped me from dropping out after one lap of the bike. Then I felt bad again. The next 80km, same story, a slow crawl with pit stops at the aid stations, which seemed to be spaced out much farther apart than when I go fast on a more normal day.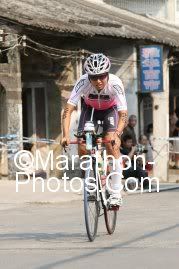 I got out on the run and felt so-so. My insides felt a little twisted up and crampy but my legs felt ok, I was able to shuffle along decently and picked up my frozen coffee Camelbak at Special Needs pretty early at around 13 or 14km. I didn't know if I could stomach the coffee but I knew I needed the calories for the long day still ahead, and solid food was not appealing to me. Luckily the milk in the coffee (which was still cold on this hot day) didn't give me a bad reaction so I was able to sip on it per usual.
Running in the daylight with many others around was easy. It seems that when the sun sets it becomes exponentially harder to stay motivated. So what got me through…I kept thinking that yes, quitting is too easy, but finishing an Ironman is really not that hard compared to many other things that people go through. Like having to get a blood marrow transplant, and being a 25yo girl and having to shave your head for the chemo shots (my cousin Alvina…I cut all my hair off to support her last year, shaving my own head was too extreme). Or having your legs amputated like the patients I see as a prosthetist. What about doing an Ironman on prosthetic legs? My legs were working fine. My stomach hurt a little but I could finish an Ironman. HTFU, it's not that hard.
Most of all I didn't want a DNF Demon. I have heard the stories of how once you quit one, it becomes easier to quit the next time. I have had friends who haven't finished and I know how disappointing it is. Well, I don't actually know firsthand how disappointing it is, and I wasn't about to find out.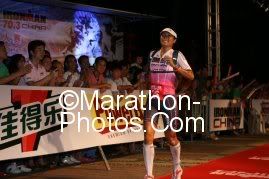 So it sure took a long time. I couldn't believe how slowly the kilometers were going and it took a long time to get to that finish line, but get there I did, and I may have even been happier and smiley-er than usual.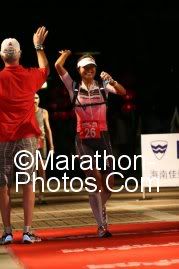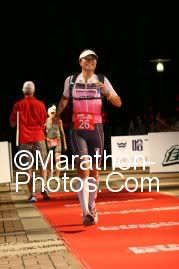 Here is my finish video…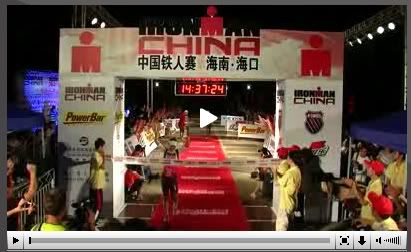 Finishing an Ironman will always be a great accomplishment to me, no matter what my finish time is.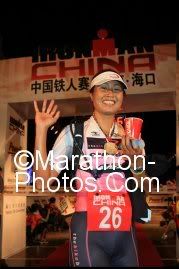 Thanks to all my sponsors and supporters for your continued support, you know who you are.