The St. George adventures of the Wongstar and White Tiger continue today, our last day before the race. Scottie and I got in our last swim at the Sand Hollow Aquatic Center, a really awesome public pool only a 20-minute bike from my homestay (30mins from Scottie's). We decided that swimming in 81*F (27*C) was much nicer than swimming in 54*F (12*C), which is the temperature of Sand Hollow Reservoir (20 miles out of town), where the swim will take place tomorrow morning.
Then it was off to tiger check-in. Bike check-in, whatever. It was super blustery down by the start; they call it Hurricane Valley because there is no shelter from the wind.
You have to admit that White Tiger looks extra handsome with his new Token race wheels! Rawr!
It was windy enough that the water had some waves and current. I'm gonna expect the worst for tomorrow, and if it happens to be flat as glass like it was Tuesday morning, then bonus
We dropped our run gear bags downtown by the finish line. It's a two-transition race. I really like when the course is lined with ads from my favorite sponsors…
Then I got back to the homestay and special delivery for the Wongstar! Oh boy…the most Haamonii Smooth Shochu I've ever had for a race. Excellent motivation to really kill it tomorrow. Let's hope this is enough to roll into our post-race trip to Vegas too! If we run out before then, it'll be because I won the whole damn race!
So apparently I was the only pro woman that Welchie got ahold of to interview for ironman.com's St. George preview. Or maybe I had the only entertaining thing to say, like somehow letting it slip what my relationship status is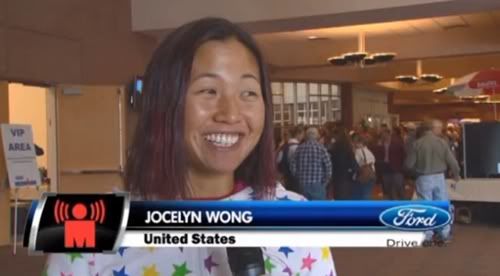 You can watch the video on YouTube below, I'm all the way at 16mins, 10sec if you want to fast forward. HEEHEE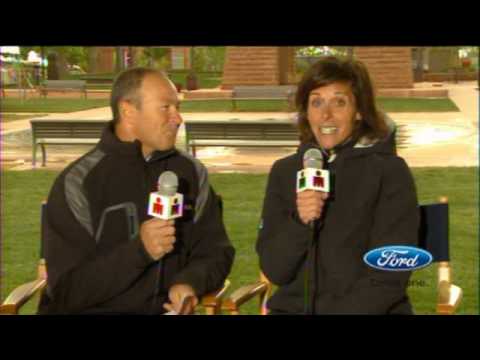 That's it for now.  You know the usual…you can track me online at www.ironman.com, our start time tomorrow is 6:50am Utah time, which is 5:50am California time for my family back home. My big sister is coming to watch me do an Ironman for the first time ever (!!!) which we are both really excited about. She will try to put up some Twitter updates on my Twitter @theWongstar but probably just during the marathon.
She sent this image to my phone while I was sleeping last night. Oh boy! My sister is the one that got me into running when we were younger. I hated running but wanted to be just like her, since she was my childhood hero. Looking forward to making everyone proud tomorrow!!