Ironman St. George was a very special experience for me as it was my 14th Ironman and my second one as a pro racing on home soil, but most importantly of all, the first time my older sister Natalie had ever come to watch me race.
She had seen me do a couple half ironmans before (or I guess they call them "70.3″'s now) but we all know that Ironman is completely different. It's a long day out there for both racers and spectators!
She drove from L.A. to Las Vegas, where she picked up her good friend Dave. They would drive to St. George on race morning and both of them would be volunteering at Jenifer's run aid station at mile 4.
Now a number of guys have thrown themselves at me proclaiming to be my #1 fan, but until any of them show up at one of my Ironman races just to cheer me on and do as well of a job as Nat and Dave, it's my sister who is holding on to the #1 spot!
Aid station #4 had a country western theme and my sister loves a good theme party. Apparently a lot of the Ironman racers appreciated her outfit too.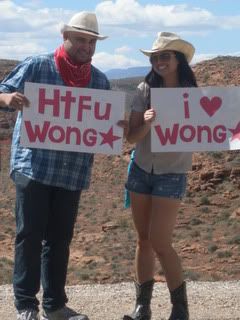 We later find out that our very own Scottie had been hitting on my sister DURING the race and commenting on how much he liked her cowboy boots…without realizing that she was none other than the "WongSiSTAR"!!
Anyone that followed my Twitter account during the race probably enjoyed her hilarious tweets. One of my followers dubbed her the "WongSiSTAR".
Well the good news is that she is indeed hot and single, and also writes a great blog. Looking good, being funny, and writing well runs in the family. You can find her blog at Stuff Single Girls Like, which is kind of a spin-off on the blog Stuff White People Like.
Right now I'm hanging out in Vegas with Scottie and his sister Heather to enjoy life for a few days post-race. My race report is in process…I am pretty happy with how I did, 8th pro is my best finish on U.S. soil and it was a very tough, slow course. After the bike, I didn't even think I could crack top 10 and don't remember passing anyone, but apparently I did.
Seeing Nat and Dave at about the mid-way point on each run loop (four times) really boosted my spirits, so special thanks and much love to the both of you!