Every time you head to a new training camp (yes, it is still a training camp even if you are a one-man wolf pack), you gotta learn your way around the new roads, find yourself a swimming pool and a good hill to do your hill reps on, so I've just spent the first few days here getting settled in.
The USA is so big that just going two states north is like going to a different country if you were in Europe or Asia. Different terrains and climates and scenery. Here on the Washington/Idaho state border it's like Christmas-tree land. Now you know why they have a Christmas tree on the Ironman CDA logo: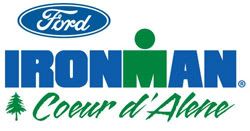 In most states, when you go on the state highways, the signs have silhouettes of the state with the highway number sign on them. But oh no, not in Washington state. Here it's GEORGE WASHINGTON's head! You know, the guy who was our first president and on all our one-dollar bills and quarters.
On Saturday I biked to Coeur d'Alene for my long ride and back. There's actually a bike trail that connects Spokane and CDA called the Centennial Trail. The logo is none other than a Christmas tree.
Where I live in California, it's such a big state that it takes four hours to drive east into Nevada or six hours to drive north into Oregon. So I kind of get a kick out of crossing the state line via bicycle.
Oh yeah, I rolled into Idaho. Didn't have time to sample the potatoes there though.
Soon enough there it was, Coeur d'Alene. I think I've been here before, for a bike race when I was in college. I raced a full season for the University of Oregon cycling team and remember a lot of long road trips into Washington and Idaho and Montana.
I'll check out the Ironman course later this week. In the meantime, I've come to realize that bloody hell, I'm unfortunately quite allergic to all the Christmas trees.
I've been telling my nose that it is not Forrest Gump, so please stop running…