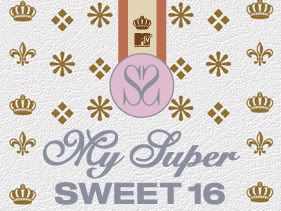 "My Super Sweet 16" is an MTV reality show where super spoiled teenagers have their rich parents throw them very lavish parties for their 16th birthdays. The climax of the show occurs during the fabulous party with the big "reveal" of the birthday gift of their dreams…a fancy schmancy car.  What always happens (SPOILER ALERT!!!): the brat starts to cry, not tears of joy, because the birthday car isn't the brand new sparkly crazy expensive one they wanted–but haha! it's always just a joke! The real gift is not that ugly POS station wagon!
Sweet 16 parties are very special occasions and require lots of birthday pictures. Photos courtesy of the Snare family, ASI Photos, and various Facebook and Twitter followers. Thanks!
Well, I don't remember my 16th birthday party at all, and I never got a car until after I finished college. It was a POS but I loved it because it worked, it was red (so I could find it easily in a parking lot), and it could easily fit my bike and training gear! Fond early birthday memories always involved Mom baking her special cupcakes. The strawberry ones made from Betty Crocker cake mix…I used to think that baking simply involved picking a box at the grocery store.
So no birthdays really stand out to me, but here in Lake Placid I knew that this would be my Super Sweet 16, or as MTV describes it, "a wild ride behind the scenes for all the drama, surprises and over-the-top fun as teens prepare for their most important coming-of-age celebrations… "
Yes, this would be the race where I would "come of age" as a pro triathlete. My first pro race was about a year ago in Korea, at the Jeju iron-distance race formerly known as Ironman Korea. Of course I learned in Spokane that baseball players in Major League Baseball are considered rookies for the first 5 years of their career, which is a concept I rather like.
Over-the-top fun and drama included the swim being non-wetsuit for the pros, I think for the first time in a while (if ever?), as it was officially 74*F with the cut-off being 72*F for us. This was actually a very comfortable temperature without a wetsuit and I was happy to just have my one hot pink cap and my blueseventy pointzero3+. After going over 1:20 at the swim in CDA, I was back on the old regime of swimming until you can't lift your arms up for several solid weeks, and mentally I was ready to be much more aggressive.
When the gun went off, I swam like hell and stayed in a group that actually included 2 orange caps–yeah, pro GUYS. I swam-swam-swam, staying on feet, until I looked up and realized that these feet were not staying with the feet in front of her. I actually surged and made a valiant attempt to bridge the gap, but couldn't do so. Eventually me and the other pink swam together that first lap and exited in 35 minutes, pretty good for no wetsuit, and then as we jumped in, an orange cap cruised by and I jumped on his feet. Of course I was confused as how I could be swimming faster than a pro guy (in a race not in Asia–HAHA!), but stranger things have happened (not many). MTV mentioned surprises for a Super Sweet 16, right??
The meager 10-minute headstart we got on the age groupers soon reared its ugly head in the form of hundreds and hundreds of wetsuit-clad swimmers thrashing and clobbering their way through the water. I am a positive thinker, and try to think of this as getting a giant draft benefit on the second lap, but honestly it gets difficult to not get beat up, swallow water, and panic. I did my best Belinda Granger impression and every now and then tried to grab people's legs to pull me along; nobody said that was against the rules. It's just stationary objects you can't propel yourself with.
So much for the "draft benefit;" I came out in 1:13 and the clock ticked over to 1:14 as I scrambled over the timing mat. Let's subtract 5 minutes for the non-wetsuit swim and I'm pretty pleased with that swim time. Plus I totally kicked the @$$ of the pro guy that swam a 1:17. I did the long hustle from the lake to the oval and change tents (you actually have to cross a couple streets–that is why T1 splits are so slow) and the tent was packed when I got in. But that was ok. Sometimes if you have too many volunteers, they will do things like put the entire Hello Pandas in your back pockets with the cardboard boxes, and as much as they want to try and help put on your super tight compression socks, they really can't. (That said I love the volunteers and always try to thank them for helping!)
After having mechanical issues at Ironman CDA, riding much slower than I feel I can, and subsequently getting yelled at by Coach for training like a soft-cock age grouper, I was hell-bent on proving my mettle as a GUN BIKER. I think that's an Aussie phrase I picked up from meeting "Pantani" at St. George. Nobody really says it here but I like how it sounds. Like I am using my bike to shoot bullets at the skinny b*tches that can swim faster than me. The fat ones too.
I was in a great mood heading out on the bike and heeded the 2009 champion's warnings to play my conservative cards on the first lap. It is always awesome to be teammates with someone who has won the race before and to get the inside scoop–thank you T-Mac for the advice! I had pre-ridden the course earlier in the week and became a bit of a cocky snot. It was really not as hilly as everyone said. It seemed that the first 80% of the course was either downhill or flat, and the "three bears" hills at the end of the loop were not very big.
Of course the perception of hills is a different matter when you are biking as hard as you can for 112 miles. It is definitely a challenging course to be respected, but it is still no EmbrunMan or St. George. I smashed the downhills like a woman posessed, and figured I would use my hefty size to catch the scrawny skinny girls who outswam me. More weight = faster downhill. There was no coasting on the pedals (unless of course, I was trying to do Superstar Step #12); coasting is for lazy pansies. And yes I really did think "Take that, you skinny bizotches!" while barreling down the hills. "I am a GUN BIKER!"
I saw what times the pro girls biked in previous years and decided that going under 5:30 was a very feasible goal. T-Mac had told me practically everybody slows down by 10mins or more during the second loop, when the hills come and bite you in the arse, so my plan was to even-split the ride as best as I could. Because as a nerdy smarty-pants girl, it is good to use the brain as much as you can to beat people that should otherwise be faster than you. So I was patient when the age groupers flocked by, at the guys who refused to get passed by a girl, and just kept a steady grinding clip, holding back and playing the patient game. I was pleasantly surprised to approach the 3 Bears (Mama Bear, Baby Bear, and Papa Bear) so soon, signally that we were just a few miles from transition.
***random fact: In Kindergarten our class put on a play/musical, Goldilocks and the Three Bears. Our Goldilocks was actually a black girl, they did not make her wear a blonde wig, and Papa Bear was black, but I believe that Mama and Baby Bear were both white girls. I was a Flower, but I really wanted to be a Bunny. There were also Frogs and Bumblebees. My parents have a copy of this on VHS somewhere and even though it was 23 years ago, I can still sing all the songs. I may have even sang some of these songs in my head during the race. end random fact***
I crossed the first lap in about 2:41:30 and was thrilled. It was onto the second lap and I hammered down the big hills again. At this point, I also filled my aero drink bottle with a Starbucks VIA (the iced coffee powder you can mix with water) to get a caffeine-boosting adrenaline sandwich. Mom never let us drink coffee in our youth (the days before tweens had access to Starbucks on every corner) because she said it would stunt our growth, so I have her to thank for my magnificent height and caffeine sensitivity. Unfortunately on one of these big descents, my sneaky #3 bag of Hello Pandas crept out of my back pocket and decided to go kamikaze into the pavement. My mouth bleeped out something my mother would disapprove of, though it did begin with "mother," but I was going too fast to stop and pick up those 320 calories of chocolate-filled goodness.
Instead I focused on going steady and not slowing down. I actually caught four pro women and was in a spectacular mood. "I am a GUN BIKER!!!" Yes, Coach's Plan B was working excellently. See, Plan A was to get me under an hour in the swim, and we see how well that is going. Plan B is "Bike and run so fast that nobody will care how slow you swim."
When I hit the 100-mile mark, I realized I was actually going even a little faster than I did on the first lap (I had done a watch check here on lap 1 and both were under 2 hours). "Haha!" I thought. "I'm going to prove T-Mac wrong! I will be the exception to the rule. I will not slow down the second lap!"
Then a few miles further along, my legs turned into bricks, I started hoping that every mild incline was "Mama Bear," and grinded my way through the final miles. I managed to only slow down by 5 minutes on that second lap, so pretty happy I didn't slow down as much as most people.
My bike split was a 5:28 and as my dad pointed out to me, back under 5:30 for the first time this season since IM Malaysia, and on a tougher course to boot! I'm very happy with that, especially after seeing it was the 5th fastest pro bike split and just a couple minutes slower than the other top bikers outside of Amy, who obliterated all of us on the bike.
My legs felt shot as I hopped off the bike at the dismount line, but that's normal. "Running legs are different than the biking legs…running legs are different than the biking legs…" I kept repeating to myself. Whether or not that is true, you should always think positively! Sure enough I clipped off at about 7:30/mile pace. Of course the first few miles are downhill. I started to run down my old friend April from Atlanta (we both competed in the same age group when we were in college/grad school there) and at the same time Charisa, another newbie pro from San Diego, was running me down.
Yeah, so I passed April to get into 8th position, then Charisa passed me so I was back into 9th. This actually hasn't ever happened to me before. Prior to CDA, Mike in Spokane had asked me if I ever got caught on the marathon in an Ironman (as a pro). Upon reflection, I realized I hadn't. Of course, this is because I am usually soooo far behind that there is nobody to catch me, and the ones that can run faster than me also swim and bike faster too! Even though I was still further back in the pro field, this is probably the first time I've raced in the USA where I feel somewhat "in the mix." (Don't laugh; I said somewhat.)
By the ski jumps, I passed by Ben's family, who yelled out "Go Starbucks Frappuccino!!" They were tickled when they learned what's really inside my Camelbak. Ben was doing great in his first Ironman and I would see him a mile or two behind me at every turnaround.
Going up the hill back into town hurt, but the huge wall of spectators packed around the sidelines in town were amazing. I couldn't help but flash my superstar smile through the crowds (I know, I'm such a cheese) which prompting even more cheering and thus more superstar-smiling. Those miles definitely went by the quickest!
Somewhere during the second lap I felt like I was bonking, but in retrospect I think it was mentally self-imposed. I had finally officially met Scott's old coach and very good friend, Brian Shea of Personal Best Nutrition, on race morning and he was out on the course cheering for his athletes. He yelled at me something about being PacMan. Gobble gobble gobble, chase chase chase. I know this game well. I started closing in on my fellow pro chicks but it wasn't something I'm used to. Later Coach would say that for the first time I felt the pressure of actual competition. I kept thinking about the 300+ calories of Hello Pandas I had dropped on the bike and practically convinced myself I was bonking. I started stopping at aid stations to throw down Coke and bananas.
When I looked at my mile splits later, I really wasn't doing so bad. But I was hurting and felt like I was just trudging along, wanted it to be over, STAT! I got some inspiration in the form of my friend Jeff Glasbrenner, who I had seen during the run at St. George and met in Coeur d'Alene on race morning. It turns out that I am not the only crazy one who is racing every Ironman on the USA circuit this year.
Yeah, Jeff is doing all 7 of them too…PLUS Cozumel. On one leg. Well, one real leg and one prosthetic leg. He lost his right leg below the knee when he was 8 years old, but went on to the Paralympics for wheelchair basketball (AKA Murderball!) and now does Ironmans. Since this year will be the 30th anniversary of losing his leg, he is doing 8 Ironmans in 8 months!
So when I saw him running on my second lap, we exchanged smiles and cheers and I picked up the pace for the out-and-back along River Road so I could chat with him again soon. Honestly, it is hard to complain about feeling like crap on the run when you don't have to worry about sweat and blisters in the prosthetic leg you don't have to run with. Unfortunately I later learned that Jeff's liner (the part that goes around his residual limb to attach to the prosthesis) ripped with 6 miles to go…tough luck…but he still made it to the finish line. Congrats again Jeff and see you in Louisville!
Back up the hill and one more little out-and-back along Mirror Lake before I hit the oval. By now it was very packed with other athletes running their first lap on one side of the road, and some still finishing up the bike portion on the other side. All I could think was "I just want to be done!" And at last, finally I was one of the few athletes that got to turn into the oval with the brilliant "FINISH THIS WAY" sign, instead of the "SECOND LAP THIS WAY" sign.
Since it was my first time racing in Lake Placid, I really appreciated soaking up the finish chute going along the outdoor speedskating oval. Smiles and high-fives for everybody!
In the end, I was 9th pro woman at Lake Placid. Great to be in the top 10 again and probably my best race on home soil so far. So I am happy that my upward trend of improvement continues, with more room to get faster and more to learn and grow from.
As always, a ginormously huge thanks to all my sponsors and supporters for allowing me to keep chasing the dream: to become the best athlete I can be, achieve fame and triathlon superstardom, make a difference in the world, and write a book telling you how it's done.
The Bike Boutique, teamTBB, Alex and Brett for picking me up as a mediocre nobody age grouper and transforming me to the work-in-progress rookie pro I am today.
Cervelo for my P3, White Tiger. Avia Running for the Avi-Rhythm running shoes. Blueseventy for the sweet swim gear. 3T, Token, Louis Garneau, and ISM saddles for the bike components.
Mark Cathcart for being my travel sponsor and advisor of all things related to travel (with bonus relationship advice thrown in now and again).
Haamonii Smooth Shochu for all the bottles of post-race rehydration and fulfilling my dream of having my very own liquor sponsor as a pro triathlete.
The Snare family for very generously hosting me in the cabin at Lake Placid worthy of an MTV Cribs TV show.
Mom and Dad for the love and support, the Costco credit card, the occasional emergency funds deposits, watching Guinness the dog, and of course the genes that will someday get credit for my currently untapped speed/endurance/whatnot.
Last but not least…YOU!!! The fans! Thanks to all of you who have ever cheered for me, sent me fanmail or sent me hatemail (a true superstar receives and embraces hatemail), Googled me, read my blog, Tweeted me, "became a fan" on Facebook, disparaged me and/or defended me on various internet forums (I have been known to turn haters into fans), tracked me online and the like. There are always the days where you wonder if this is all worth it, but I continue to be encouraged from your support (and even more encouraged by the anti-support) and want to give you my heartfelt thanks. It really makes a difference to me!
Anyway thanks all for helping me have a Super Sweet 16! Next up is 17 in Louisville (when you are old enough to read Seventeen magazine) and quickly followed by 18 in Wisconsin–when you can vote, buy cigarettes and porn, and alcohol in non-American countries. I don't know how many more of these Ironman birthdays it will take to hit the big time, but I am definitely enjoying the journey every step of the way!