Things to do in Delaware #3: Watch a Blue Rocks game.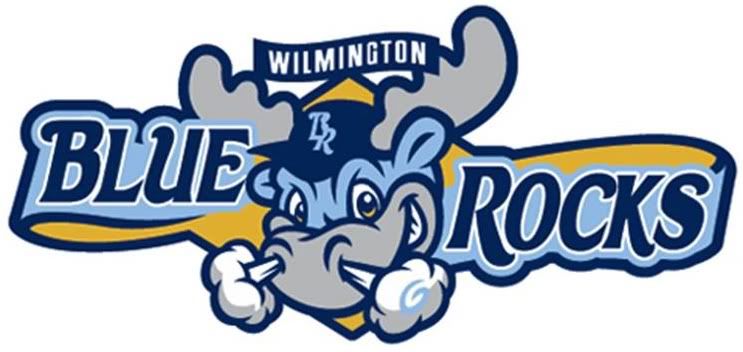 The Blue Rocks are a minor league baseball team here in Wilmington. As we all know, Delaware is a small state, so we don't have our own major league team. (The Phillies are only half an hour away.) But apparently the Blue Rocks are the farm team for the Kansas City Royals. Now, my knowledge of eastern USA geography I admit is sketchy (though getting better by the day), but even I know that Kansas City is closer to the middle of the country, so I too am confused. Anyway, the cool thing about minor league games is that for a $6 ticket you can sit pretty much anywhere you want, like right behind the home plate.
Travel sponsor Mark has appointed himself as the Jiminy Cricket of my dating life, to act as my conscience while I try to strike the balance between kicking arse at triathlon while pursuing true love. I believe his exact words were "No monkeying around, focus on staying hydrated and thinking about next week's race; also taper doesn't mean it's ok to be on your feet walking for 8-hours…"
So the next date should involve some sitting down then. And nothing better than going to a Blue Rocks game on Jewish Heritage Day with a nice Jewish boy. I mean, it would've just been wrong to go out with a Christian or Mormon or Muslim guy on the Blue Rocks' Jewish Heritage Day, right?
My residency director and former boss, Gary, is Jewish and has always encouraged me to date a nice Jewish boy.  I believe his exact words were "Once you go Jew…" I don't really know what happens after the dot-dot-dot but if you follow my blog you know I am pretty open-minded about various religions.
So the Jew and I were going to see if it was easier to spot Jews in Wilmington as opposed to spotting Asians. I learned that Jewish kids have to go to Hebrew school on the weekend when growing up, like Chinese-American kids have to go to Chinese school. I was hoping we would get those cute little Jewish hats (OMG they even make Batman ones) as part of Jew Day at the Ballpark, but no such luck. The only thing Jewish about Jew Day was that they played "Take Me Out to the Ball Game" in Yiddish. And the Jew that happened to be sitting next to me.
So the main mascot is "Rocky Bluewinkle" the moose, who came around the stands greeting fans, but I refused to give him the time of day because I only had eyes for…
MR. CELERY!!!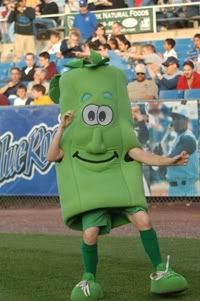 Unfortunately this photo of Mr. Celery is from elsewhere on the internet because Mr. Celery was NOT to be seen at this game. But I had heard so much about him, and really wanted to meet him, take a photo with him, and get his autograph! He was THE reason to come see the game! (No offense to the nice Jewish boy.)
I know you guys enjoy the failed dating stories, so here is how it all went down:  it started raining during the game…we were without an umbrella and got soaked…and our home team was down 5 to zero at the fourth or fifth inning when the game got postponed (and eventually cancelled).
No Mr. Celery–SO DISAPPOINTING!!! Later I found out from Wikipedia that he only comes out to "CEL"-a-brate when the Blue Rocks score a run. OHHHH.
More Mr. Celery from elsewhere on the internet: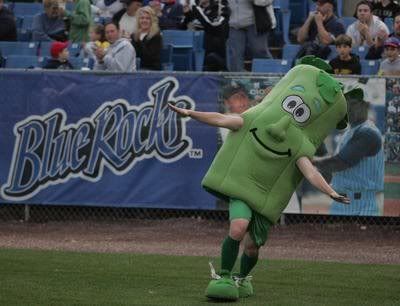 To top it off, the Jewish boy tells me there is a Hebrew version of the famous Philly "LOVE" sculpture in Israel…yet when asked if he knew how to say "love" in Hebrew, he was stumped.
Now riddle me this: what exactly is the point of dating a nice Jewish boy if he can't declare his love for you in Hebrew?!
Tags: delaware