Ok, DUH, how could I forget to put "see where baseball bats are made" on my list of things to do here in Kentucky? Especially in Louisville?
Now while some of my teammates have been known to follow the World Series when we are overseas at training camp, my own personal interest with baseball has been limited to "hmm, should I let him get to first base or *gasp* second base tonight?"
Or, hey! Jew Day at the ballpark! But even so, of course I've heard of Louisville Sluggers…  The official bat of Major League Baseball. As you recall, Delaware doesn't have an MLB team…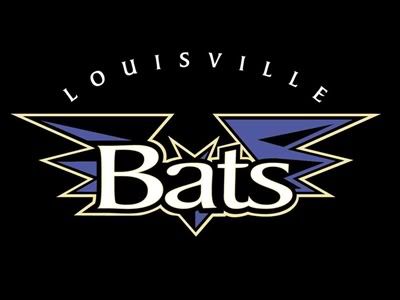 Well, neither does Louisville. Despite all this baseball bat-making. Their minors team that plays in Louisville Slugger Field is called the "Louisville Bats."  Their mascot is the winged creature that Batman emulates…cute and corny right? The Wongstar loves a good pun!
So here at Ironman central, you can actually get a personalized official IRONMAN Louisville Slugger bat! With your name enscribed on it! Now how sweet is that.
After today's ESPN interview (where I declared I wanted me some KFC at the finish line), athlete registration, and pro meeting, Kellie took me over to the Louisville Slugger Museum & Factory, where all the baseball bats are made. They've got a giant glove…
to go with the giant baseball bat outside.
Gear bags are packed and tonight is the night to sleep! Very cool catching up with my teammates here, and also Jeff (Team Glas!), Minsok and Bliss from Singapore/Austin, Sugar from our forum, and some of the TNT LA crew.  But I have yet to meet Louis in Louis-ville