How to Become An International Triathlon Superstar, Step #17: Take your recovery seriously.
It's been almost a week since Ironman Louisville and in another week I've got Ironman Wisconsin. Many have asked how I recover so fast from an Ironman, so I shall indulge you in some of my superstar secrets, what I do and what I don't do.
#1) EXERCISE.
Don't stop moving. I like to get in a short easy spin the day after the race before I pack up White Tiger into his bike box. I get straight back into the pool right away as well, and can resume full-on swim training almost immediately, as there is no rest for the wicked bad swimmers. By the Wednesday after a Sunday race I can usually do an easy super-slow 20-30min run. I might feel tired, but not too sore or tight as long as I've kept moving. It's when you don't do anything at all for a few days…or week(s) that you stiffen up, which makes Ironman recovery even harder!
#2) NUTRITION.
As much as I enjoy perpetuating the myth that I can eat all kinds of crap food and ice cream every day, unfortunately I am not one of those naturally skinny garbage truck girls that can eat whatever they want and not get fat. I will happily eat the finish line pizza and have KFC (but only in Kentucky), but as my body is a finely-tuned specimen, it will start to feel like garbage if I feed it garbage.
I was tickled and very proud that the Kentucky Beef Council was declared "official protein" of Ironman Louisville. I am a big believer in incorporating red meat into your diet and love steak and liver. I was once diagnosed as borderline anemic and my doctor had me take iron pills for a few months to boost my iron levels. I don't really like taking pills and it made my poop a funny color, so now I just make sure I eat red meat regularly. Great source of protein and iron, the good stuff that all endurance athletes need to race well and recover well. Four-legged creatures are our friends indeed.
#3) HUMAN GROWTH HORMONE.
The all-natural way…SLEEP!!! Your body is tired and needs rest. Post-race is when your body is most susceptible to getting sick, and whenever I feel that telltale tickle in the back of my throat whether in training or right after a race, I know it's a sign I need to sleep more. If you are like me, you have trouble sleeping in, so the best way to get more sleep is to go to bed earlier. Load up!
#4) SUPPLEMENTS.
Like I just mentioned in #2, I don't like to take any pills and supplements and as a pro triathlete have to be careful with these kinds of things as one day I will be fast enough to get pee-tested. I do like taking Emergen-C, though, which comes in a fizzy powder drink mix and is full of vitamins and minerals and electrolytes.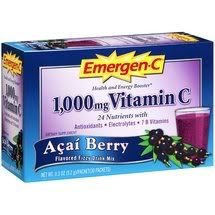 I'm partial to the Acai Berry flavor. It's extra fabulous and most effective when blended with ice, blueberries, and Haamonii Smooth Shochu (lemon flavor)! Post-race recovery beverages are the best.
#5) OTHER TREATMENTS???
I've been asked about ice baths and massages. Pretty much no and no. When I ran track my freshman year in college (and got the injury that turned me into a triathlete), my coach would make me sit in the ice bath whirlpool after practice every afternoon with the other gimps. You know what? My injury never healed that season, but it turned me on to bike racing and then triathlon. I don't believe in ice baths. You want to keep the blood moving, not slow it down. The only ice you'll see me embrace is pictured above in #4.

As for massage, I get the post-race Ironman massage, because it's free. I got massages in Thailand and the Philippines because they were $5 an hour or cheaper. I can't afford a massage here in America and so I don't get them. I do keep TP massage balls around though, as my low back tends to get tight from riding in the aero position all the time and all this blogging and writing I do on my laptop.
Hope that helps. Happy recovery and see you in Wisconsin next weekend!