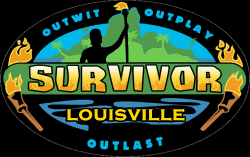 Race morning was so warm that I did not need a jacket or pants as soon as I stepped outside. I didn't even need my sweet new long-sleeve T-shirt that said "Gettin' Lucky in Kentucky" courtesy of homestay Kellie! Just my race kit on and ready to go.
The swim in Louisville is a very unique time trial start for the age groupers and the only race on the circuit where you have more than 2 hours and 20 minutes for the swim cut-off. I think they get to go off every 5 seconds and it takes about 40 minutes to get everyone in the water. The swim cut-off begins after the last swimmer gets in the water so if you are a really bad swimmer and are the first swimmer in line, you actually get 3 whole hours to swim the 2.4 miles! In years past I believe they didn't start the total race clock until after the last swimmer got in as well, so you would have up to 17 hours and 40 minutes to do the whole Ironman, however this year you only had until midnight to finish.
This time-trial start concept for the age groupers has actually caused a "race before the race" for the best spot in the line for the swim start. Some athletes have friends and family members actually camp out in the wee early morning (as early as 1 or 2am???) as if they were lining up for a movie premiere. Luckily as a pro athlete I don't have to worry about this as we all get to go off at the same time, 6:50am and no waiting in lines. This made a really smooth race morning set-up, as transition was already nearly empty when I got there at 5:30am, most age groupers were already scrambling to line up for the swim start, so really short lines for the porta potties!
As in years past, the water was too warm for a wetsuit, so I got to wear my blueseventy Pointzero3+, which is the last time we'll get to use these before the new WTC rules take effect. I swam hard when the gun went off but was only able to stick with the next slowest hot pink cap for less than a minute. Then I was in no-man's land for pretty much the entire swim. You get to head out and around Towhead Island going upstream (but really they said there was hardly a current), then hit the turnaround, at maybe about 1/3 of the 2.4 miles, and then go downstream the rest of the way.
I like to count my strokes by 2′s to get into a rhythm and when I hit the turnaround my watch said 27 minutes. So "1-2, 1-2, 1-2″ became "oh sh*t, oh sh*t, oh sh*t" as I pushed myself to go faster. If that's really a third of the swim then that's gonna be an 81-minute swim. NOT GOOD. I bumped up the effort level…like Coach says, when you think you are going hard, think again. You can always go harder.
Current or not, I definitely swam the next two-thirds faster, and by the time I hit the end of the island the age groupers had started catching up to me, one by one. I decided to hit the accelerate button even more, and flipped the switch to "approach vomit level." Coach always said I should never save anything for the bike and run. So now instead of "oh sh*t, oh sh*t, oh sh*t" I was thinking "vo-mit, vo-mit, vo-mit!" It seemed to work well as some of the swimmers who had started at least 10 minutes behind me seemed to have trouble passing me, and I was even able to get on some feet here and there, albeit briefly. I got out of the water and the clock said 1:02, really 1:12 with the pro head-start, and my best non-wetsuit swim all year! Still nothing to write home about, but not a bad way to start the day, I can only be 20 minutes down on the leader at most…
On the bike I went somewhat conservative for the first hour then really punched it.  This was something new that I tried.  I figured, there is no use biking conservative and saving your energy for the run if you aren't even within spitting distance of any other pros when you hit T2.  You might have more energy to run, but you have to weigh that against being completely demoralized finding that the next pro is 3 miles ahead of you!  Also it would be very hot when we all got to the run, so I figured I would give it a little extra during the bike when the temps were a bit cooler.  I had nothing to lose. Racing so much gives me a chance to test my limits, and I wanted to see how fast I could go on the bike and how it may affect my run.
So I biked almost like I didn't have to run afterwards.  The course was fairly empty during my first loop, very clean…  The course is a rolling hills kind of course with an occasional short steep hill, so I was able to get into a good rhythm, using my momentum to launch myself up the hills, which always seemed to be preceded by a downhill.
Inspired by how hard I was able to swim, I decided to apply the same logic to my bike.  I tested out my new powermeter.  The name of my powermeter is the Panda Puke-O-Meter, as inspired by my bike nutrition of choice–Hello Pandas!  You bike so hard that you approach vomit level, but it's a fine balance, because you don't want to actually puke up your Pandas, otherwise you go into calorie deficit and bonk.
This worked out well, and on the second lap of the bike was when I started overtaking age groupers on their first loop.  The Panda Puke-O-Meter was so effective that at times I was breathing rather audibly. If I was a professional tennis player I would be the girl that always grunts every time she whacks a tennis ball.  But since I am a professional triathlete, I just grunt every time I breathe, which is more often.  At about the halfway point, I put a packet of Starbucks VIA iced coffee into my aero drink bottle and mixed it with water I grabbed at an aid station (you blow bubbles through your straw to mix it up!).  This is my rocket booster for the bike leg!
I put myself in the hurt box quite a bit and was able to catch at least two pro women.  Towards the end of the bike, the bike juice in my legs was running low, even though I was drinking a full bottle of the fake Gatorade (what is it, "Ironman Powerbar" drink) at every aid station, which would be at least 6 liters of fluid + electrolytes, it seemed that the near vomit-level bike effort and rising temperatures were taking a toll on the legs.  The last 10 miles felt like they took forever; you don't quite see that you have reached downtown until you are right there.  I wasn't able to keep my Panda Puke-O-Meter pace and my hamstrings felt like they were on the verge of cramping up toward the end.  Truth be told, I wasn't sure I would be able to run off the bike at all!
As I stumbled off my bike and handed it to the volunteer in T2, I could see there were other pro women just leaving transition or not too far ahead on the run. Striking distance! I put on my first Camelbak filled with pre-frozen Nuun-enhanced Starbucks Mocha Frappuccino. Kellie has a DEEP FREEZER in her garage for such purposes, and by the time I headed out on the marathon, it was the perfect temp (the drink mix, maybe not so much the weather
)–melted but definitely still icy cold!
My legs were a little shaky to start with but I could tell it was going to be a scorcher, so I headed out at a conservative pace that I knew I could hold for a hot marathon–8:20′s.  I was happy to find that my run legs did in fact still work after biking like a maniac and felt it really wasn't that hot.  It was overcast during my first lap of the run and I kept sipping on my ice cold Starbucks, holding steady on the 8:20 pace and catching 4 or 5 pro women.  It was really cool seeing Bek in the lead, she was way far ahead, and I was able to count the other pro women ahead of me by the bike escorts.  The 5th bike escort was a bit ahead, and then there was no one…actually, then there was…me.  I had run up to 6th place.  Whoa!
I was able to maintain the same pace throughout the first 13 miles, then switched out my Camelbaks at special needs.  I had actually run out of my Frappuccino rocket fuel by mile 10, which never happens.  I had filled up the entire 2 liters too!  Usually I just fill it up to 1.5 liters and don't even finish it by 13 miles.  For the normal weather races anyway.  So that's ***FORESHADOWING***.  Only I didn't even realize it was foreshadowing.
And so inevitably, thanks to the heat, accumulated fatigue in my legs, and mental strain, my pace soon deteriorated to 9-minute miles, then 9:45 after 9:45 after 9:45 during the next 10 miles.
What I also didn't realize was that the 5th place bike escort was with an amateur triathlete and that I was actually 5th pro for most of the marathon.  I'm not sure if knowing this would have changed anything, because when Kelzie (the last pro I had passed much earlier in the run) blew by me with about four miles to go, I was shattered.  I had been entertaining foggy-headed thoughts of a nice cold shower somewhere, maybe even walking.  Walking sounded so good.  Then Kelzie blew by and I needed to regroup, stat.
I did the unthinkable.  I stopped.  It was at an aid station and hot damn, I was desperate.  I knew if I kept falling apart, all the girls behind me who were doing the Survivor death march faster than I was would also catch me.  So I threw some cold water on myself.  It felt good, so I threw another cup over.  Then another.  Then another.  I couldn't stop.  The volunteers asked if I was ok. I think I had the crazy eyes.  Then I tossed back a cup of Coke.  It tasted good, so I had another.  And another.  And another.  I couldn't stop, and I definitely had the crazy eyes.  I must have showered myself with at least 10 cups of water and guzzled down 5 or 6 Cokes.  It was my way of slapping myself in the face; I shook myself off and told the volunteers, "ok, I think I can go again."
I trotted off, and really there was only 4 miles to go.  It was amazing that by that point of the race, I had taken in over 6 liters of fluid on the bike and over 4 liters on the run, and was still very dehydrated.  I soon felt the effects of the Coke, or as my old friend Bean would say, the "Red Ambulance": not only could I start running again but was really able to pick it up.  I mean, really dig deep into the darkness and PICK IT UP.
It was then that I saw deep inside of me something I had only caught a glimpse of during my near-puke-level episodes during the bike ride: the scariest little baby monster deep within me.  It was mean and it was grotesque, and it fed on pain.  Lots of horrible, nasty, dark and twisty pain.
Oh yes.  Insert ugly baby joke here.  Oh here, how about this one: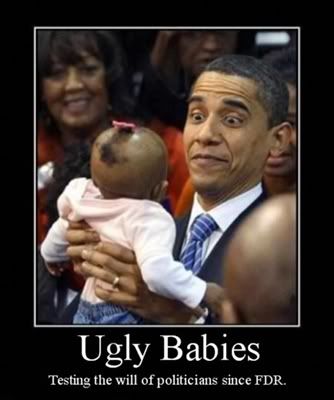 Well, I never knew I was capable of having such an ugly vicious little pain monster inside of me. But there he was. Rearing his ugly baby head and demanding "FEED ME!" So I did. I hurt the most I ever did in the last 3 miles of an Ironman and pulled myself back into a grunting mess, somehow finding the sheer will to make my legs churn out 8-minute miles once again. It must have been rather entertaining to the spectators and the age groupers as I ran by making some awful noises, but that's The Wongstar, she's an entertainer, she is.
I killed myself to go as hard as I could, and for what? I'm not sure. It wasn't for the prize money as only top 5 paid out and there was no way I was within 8% of Rebekah's time. It wasn't even for a top 5 finish because I didn't realize I was now in 6th place and not 7th. I guess I just knew that if I went as hard as I could, as fast as I could, and left everything out there on the course, then I would be happy with my race. Because if you give it everything you have, and fall short, then there is nothing else you could have done more.
I crossed the line completely exhausted and dehydrated and was of course promptly wheeled off for a chicken broth IV. I was surprised to learn that I ended up 6th in the pro division and really am happy with that, as I gave it everything I had. Obviously we all would have liked to go faster, but I did what I could for the conditions the day gave us. I'm proud of myself for finding that second wind so late in the race, and meeting the ugly baby pain monster within me. Every race is a learning experience, and I learned I could really push my limits, dig deeper, and then push them even further than I thought possible. It was quite honestly the best training session for Ironman Wisconsin I could've asked for! So less than a week and I get to do it all over again. This time I am ready to call on that nasty little bugger.
As usual, big thanks to all my sponsors and supporters for allowing me to live the dream.
The Bike Boutique, teamTBB, and the big three in charge: Alex, Brett, and most recently Mac, with a special nod to The Bike Boutique Wilmington, my new USA headquarters.
Cervelo for my P3, White Tiger.
Avia Running for the Avi-Rhythm running shoes.
Blueseventy for the slick speed suit, goggles, and race kit.
3T, Token, Louis Garneau, and ISM saddles for the bike components.
AceCo Sport Group for my sweet WongSTAR-ized K-Edge chain catcher.
SLS3 for the compression socks and tights.
Mark Cathcart, my travel sponsor and uh, relationship advisor.
Haamonii Smooth Shochu–the low-calorie, no-hangover choice of triathlon superstars.
Kellie & the Jones family for being my homestay in Louisville.
The Bike Haus family for being my homestay leading up to the race.
Mom and Dad for being as understanding as they can.
LOVE YOU ALL!!!