Some people laughed at me from the beginning when I said I wanted to become a triathlon superstar. But I took my superstar aspirations very seriously, not just focusing on putting in the training to get faster and go pro and get faster still, but on marketing myself as the image I wanted to become. I wrote fun blogs, answered the occasional fanmail, was very approachable in person, and practiced signing autographs, giving them out when nobody asked for them. I looked for my own sponsors whose goals aligned with mine and somewhere down the line, strange things started happening.
People I didn't know started coming up to me at various events. They yell for me in races and tell me they love my blog. They scream "Go Jocelyn!" when my bib number only says "Wong(star)". I actually started getting requests for autographs and offers to pay for postage on autographed photos of me. I still try to act very nonchalant and not shocked when this happens but it's kind of weird, in this fantastic sort of way. I used my very charming personality and uniqueness as Asian Triathlon Superstar to land my own "post-race re-hydration sponsor."
Yep, this Saturday, I am going to have a very sore hand signing autographs because my liquor sponsor, Haamonii Smooth Shochu, will be sponsoring a big event in San Francisco: the J-Pop Summit Festival in Japantown. I'll be helping to "share harmony" at our festival booth and am being billed as the headliner!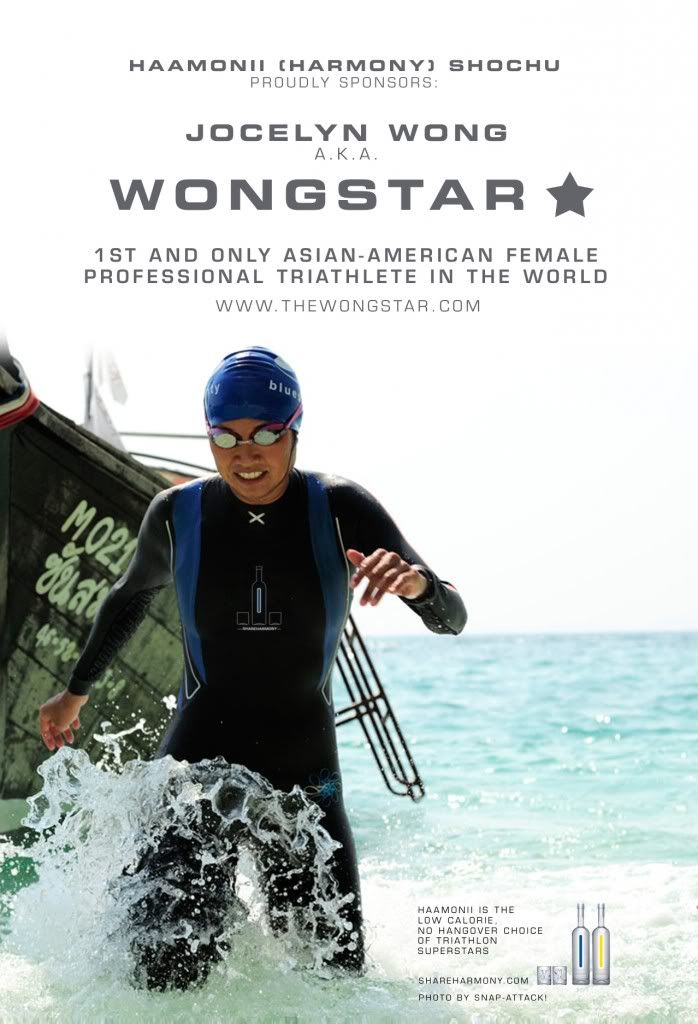 Yes, indeed this Saturday in San Francisco, you can meet the world's first and only Asian-American female professional triathlete and get her autograph. (Gosh, that does make me feel pretty special.
) When James, head of Haamonii, told me he wanted me to sign photos, I mentioned I usually get them done at Costco for 13 cents apiece, that I could pay for them, and how many should I print out? …thinking maybe a hundred… Well apparently over 30,000 people will be coming through the booth and they want to print out "several thousand" photos.
WHOAAAAAAAAAAAAAAAA. Luckily he didn't take up my incredibly stupid offer to pay for the thousands of prints myself! I'll be there from 11am until 6pm, and then we are hosting a VIP party from 7pm to 9pm.  You can get on the guest list by signing up for the email list on the Haamonii website. Hope to meet some local fans and make new ones!
Enjoy Haamonii Smooth Shochu…the low calorie, no hangover choice of triathlon superstars!