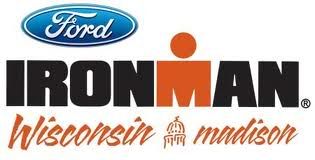 (If you missed Part I, the introduction, find it here.)
Since Ironman Wisconsin was my first Ironman ever, and then my third, I always thought the set-up here was considered pretty normal and standard for all Ironmans. Two-loop rectangular swim in the lake where you don't get out of the water until you have to get out, and a transition area set up inside a building–indoor changing areas–with bikes in the parking lot. Then I did all these races where the swim is two loops but you get out of the water in the middle of it (and the last IM China was FOUR loops), and transition areas that are completely outdoors with changing tents. So it's actually Wisconsin that has a unique transition area, where the bikes are set up in the parking garage and you run up, bike down, then bike up the spiral ramp to the parking area–they call it "the helix."
The cannon went off and I thrashed my way along the pack until the last of the pink caps left me in their wake. Weirder yet, I was managing to stay onto the feet of a silver cap…um, a male pro?! but got pretty annoyed after I kept smacking his feet and he was really terrible at sighting, drifting way off toward the shore. I took a gamble, thinking "I think I can swim faster by myself." I wasn't sure if this was the right choice as he seemed to drop me, despite drifting off to the right, but later results confirmed that I had indeed outswam a male pro by 6 minutes. Another bizarre thing is another male pro blew by me in the water 5 to 10 minutes into the swim. I couldn't hang onto him at all, and was completely confused what this guy was doing behind me–later I found out that Max Longree for whatever reason had started the swim late. Yikes.
The swim is what it is, I will spare you the highly unimpressive details and keep working harder to improve it.
So I had told Rick and Gail, my homestay family and race day sherpas, that the splits I wanted after swimming was how much time I lost on the lead swimmers. If it was more than 30, I didn't want to know (don't laugh, it's happened). Of course after getting out of the water, running up the dizzying helix, going through the change tent and running from one end of the parking lot to the other, I was pretty confused when Rick yelled "22!" at me a couple times. Um, 22 what? Was I in 22nd place? There weren't even that many pro women. Was I 22nd woman including the age groupers who started 10 minutes behind? Somewhere along the first few miles of the bike I figured it out. 22 minutes down from the best swimmers. AHA. Not great, but much less than 30 minutes. Maybe I should've asked how far behind the next-slowest swimmer I was to give me a carrot to chase.
I got onto White Tiger and just worked on keeping steady and working into the bike. This was the first race on the summer circuit that I didn't show up about a week in advance, so I didn't get a chance to pre-ride the course. Even though I'd raced it twice before, the last time was 5 years ago and I knew that actually racing the "rolling hills" bike course would be tougher than when I went 6:21 on the same course as an age grouper. My secret goal was actually to see if I could take a whole hour off my bike split. My new "pro" impression of the bike course was that it was similar to Louisville but more challenging–bigger rolling hills and many more corners (yet somehow I ended up hitting the same exact bike split).
I paced myself better on the bike than in Louisville because frankly I didn't have it in me to hit "almost vomit level" on the Panda Puke-O-Meter so early in the bike. Whether this was because I wasn't as fresh, having just raced Louisville, or just how the day was going, I didn't know and it didn't matter. I felt very strong for most of the bike, called upon my long-lost bike handling and cornering skills from my days as a collegiate bike racer, and got in my nutrition. I hit the halfway at about 2:45 and thought "meh…let's try to negative split then."
Sometime during the second lap of the bike, the camera crew on the motos came by and kept me company for five miles or so. I was incredibly confused, as I was in last place. Don't they know I'm in last? Is it because I am holding a faster pace than the other women and surely this means I am right about to catch all of them and then crush them on the run? Or is it because me and White Tiger are ridiculously good looking? Oh no, am I going to be known as the slow pro girl whose only redeeming quality is being ridiculously good looking?
The things you think about when you are racing an Ironman. ahahahaha. If anything, having the cameras on me gave me a bit of a boost and I made sure to look good and strong and focused while showing off the sponsor logos. Maybe I'll get on the Universal Sports coverage! Yeah baby, I'm a gun biker!
I didn't pass any pro chicks on the bike so I still had no idea how I was doing. For all I knew, they were all biking just as fast if not faster than me. I did feel strong though, and age groupers that had passed me early on were getting re-passed that last bit of the bike. I hit mile 102 at 4:55 and figured all I would need to do was hold 20mph and I would crack a 5:25 bike split. Easy cheesy, I was bombing down some of those final stretches at over 35mph. What I didn't account for was getting on the narrow bike path on the way back to Monona Terrace with very tight 90-degree turns…killing my speed quite a bit, and of course going back up the helix into transition. Those last 10 miles always seem so long, don't they?
Still, I got there, must have slowed a bit as I hit the line in 5:30 with my legs feeling wobbly. Heading out on the run I felt like a wreck. Apparently I looked like one too, as travel sponsor Mark actually saw me on Ironman.com's live video coverage and told me so later. I overheard Welchy announce me heading out on the run, something about starting the bike way behind after the swim…ah, but what else is new. I was already breathing pretty hard and feeling awful which doesn't usually happen until after at least the first 13 miles! Settle in…settle in… I saw Rick and Gail, and Rick yelled at me that 8th place was 9 minutes up, 9th and 10th were another 5 minutes up…that put me in 11th, and I felt like crap.
Put yourself in my position…Out of the water last, didn't catch anyone on the bike, and now I'm 9 minutes behind the last money spot and feel TERRIBLE. Give me something to work with here, Wongstar. If there is any good motivation for me to swim just 5 to 10 minutes faster, it would be so I stop starting the marathon completely demoralized. Sometimes I don't even know what drives me, but I just knew I had to keep putting one foot in front of the other. Maybe someone would drop out, maybe someone would totally bonk. Deep down, I knew that even if I wasn't going to win any money, this was another test, another race that would make me stronger for the future champion that I will become.
At no point during the race did I feel sorry for myself and think "most of these other girls didn't just race Louisville." This actually never even occured to me; I didn't see that as a reason I should do any worse. I remembered my Coke "red ambulance" revival at mile 23 of Louisville so I hit this up much earlier in the run…20 miles earlier in fact. I knew I was already in trouble because I felt really hot and it couldn't have been more than 75 degrees. Geez Wongstar, where did your hot weather invincibility go? You just raced 20 degrees hotter 2 weeks ago and this should feel like a breeze! I was definitely not feeling like a superhero.
No matter, I raced like a demented person, throwing ice down my shelf bra, squeezing sponges on myself and sucking down Coke. I mean Pepsi. (Coca-Cola headquarters was across the street from my building when I was at Georgia Tech in Atlanta, so everything is "Coke" to me. Just like how I'll keep calling the Powerbar drink "Gatorade.")
The camera guys came up to me again during the second half of the run. "WTF, don't they know I'm still last?"
Mentally this was one of the roughest marathons I've ever done. I usually don't start encountering the mind demons until I've run 13 miles, but this time I did battle with them from mile 0. But I got through it by repeating key quotes I've been told by my teammates and heroes in Ironman, and of course the Coach who knows everything.
Coco told me last summer "You have the mind of a champion."
Bella who had been injured and couldn't make it to Madison had emailed at least two times telling me "Give it an extra push for me."
Tereza on several occasions had called me a "little superstar" and if she thought I was one, then I had to be one.
Coach once told me "Deep down, you are made of the right stuff." And in one of our first email exchanges, he had said "Jocelyn, it all comes down to want. How bad do you want to be a professional triathlete?"
So that is what kept me going. All I did was repeat these quotes in my head, knowing that if only I kept going, it would take me to a goal I had, not for an impressive result that day, but a bigger goal in the future. The best thing about being on a pro team with Ironman champions, and a coach known as a champion maker, is that if they see something in me that even I don't see, then surely something is there. They know what it takes, and so this gave me confidence and motivation to keep going.
Mile 23 came and this time the tables had turned from my race in Louisville. I caught a pro woman walking, but I wasn't sure because the volunteers had marked her age on her calf instead of a "P" for pro. Ok, one down. At least I passed SOMEbody, I guess. I kept trucking along and up the road saw another woman ahead with a two-digit race number on her butt. OH?? By then the race course was filled with many age groupers on their first lap, so it was hard to tell who was in the pro race.
But seeing that pro bib number gave me a boost. I can catch her. I can get her. As I got closer, I confirmed it was definitely a pro number. How best to execute the proper pass? I knew from my experience on the other side 2 weeks ago that the best way to pass is to pass decisively to best demoralize your opponents. I was also a little apprehensive that she would come back and get me. So I tried to do a sneaky pass, running widely on the right as there was a group of three men running to the right of her. Maybe she didn't see me?! Oh, who am I kidding; who else is running this fast at this point in the race?? Oh nooo, she is totally going to catch me back…run like hell!
I was honestly completely convinced that she had latched onto me, breathing down my neck, and if I let up my pace at all, she would get me before I hit the finish line. AUGHHH SHE'S GONNA GET ME! In reality I had nothing to worry about, but I wasn't about to take any chances. I heard Bella telling me "Give it an extra push for me," and then I heard Coach saying, "You can always go harder than you think you can." And they were right. I found that extra push, that extra gear, that I could go harder and slowing down was all in my mind. Don't give up, I never give up, I can't give up or she'll catch me…
I hit the last State Street stretch and couldn't enjoy the screaming crowds, wouldn't let myself enjoy the screaming crowds, and where the heck was the finish line already? I finally turned the corner and there it was… I did the look-behind-the-shoulder a few times to make sure, and well, there were no women in sight at all. So finally I chilled out and let the big superstar smile come out and of course high-fived two little Asian girls in the bleachers lining the finish chute. It's my very important duty to inspire the future generation of Asian triathlon superstars.
I still didn't know what place I was in, but I crossed the line with a very victorious fist pump, because I felt I had won. Whatever battle it was that I was fighting, I had won, and I felt that something had changed in me, in this 18th Ironman, maybe I found something inside of me that will help me in future Ironmans. The will to keep fighting when it seems that all is lost and there is nothing to win. Something in me clicked. This victorious feeling was even further vindicated when I found out about 10 minutes later that I had somehow clawed my way up to 8th place, the very last paycheck spot.
The 18th Ironman, the coming of age. My career as a pro triathlete has only just begun.
Special thanks to all my sponsors for their support in my journey towards Ironman greatness!
the big ones: teamTBB, the Bike Boutique, Cervelo, Avia.
the sweet gear suppliers: blueseventy, 3T aerobars, Token Products, Louis Garneau, ISM Saddles, AceCo Sport Group, SLS3 compression socks.
the special ones: Mark Cathcart, Haamonii Smooth Shochu, and Mom & Pop Wongstar.
Thanks to my homestay, Rick and Gail, for their incredible hospitality!
And of course a special thanks to my teammates on teamTBB who have ever said anything even remotely encouraging to me, thanks for the inspiration and motivation. It might not have been a big deal to you, but it was a big deal to me. Thank you.