How to Become An International Triathlon Superstar, Step #19: Don't just create and cultivate an international fanbase but forge genuine friendships all across the globe.
So I just looked this up. Google Analytics tells me that in the past year, I've had thousands of visitors to my official website (theWongstar.com) from 66 different countries and territories. This includes Ukraine, Ecuador, Croatia, Indonesia, Nepal, Chile, Kuwait, Morocco, and Bulgaria. That's INSANE. How many of you can even name 66 countries off the top of your head? (Cue theme song to "Are You Smarter Than a 5th Grader?") And how can you argue against statistics that I'm not an international triathlon superstar by now?
What I've loved most about becoming a professional triathlete on teamTBB is that I've been very fortunate to travel internationally and meet people from all over the world. I used to keep a blog on Livejournal since my senior year in college, when I first did an Ironman but didn't know many other triathletes my age in real life. As a triathlete blogger, I got connected with other LJ bloggers from various places in the USA and also a couple random triathlete girls in Southeast Asia. Ria in the Philippines and Li Ying in Singapore.
I ended up meeting a contingent of these "LJ friends" in Austin, Texas, when I lived in Dallas for a year, and one of them became my travel sponsor.
As I started traveling with teamTBB, I even ended up meeting my LJ friends in Singapore and the Philippines. With the advent of Facebook, it's been even easier to keep in touch with them. They've known me since I was a nobody age-group triathlete, trying to write my thesis so I could graduate from college, trying to decide what to do with my life and which graduate school to pick, and of course they were the first to hear when I got in contact with a real pro triathlon team. Back then I guess it was a little weirder to tell people that you "met on the internet," though it's not so uncommon any more these days.
I met Li Ying in Singapore when I did Ironman China for the first time in 2008, and half a year later, met Ria at my first Subic triathlon camp. When I'm back on this side of the globe from them, we sometimes have three-way chats online when I've come home from a date–late at night when my local friends have already gone to bed, but it's morning the next day over where they are–so they can get the entire blow-by-blow.
When I first met Li Ying, I also met another blogger, Bernard; the two of them had just started dating and showed me around Singapore. The next time or the time after that, they were engaged. Yesterday, they got MARRIED.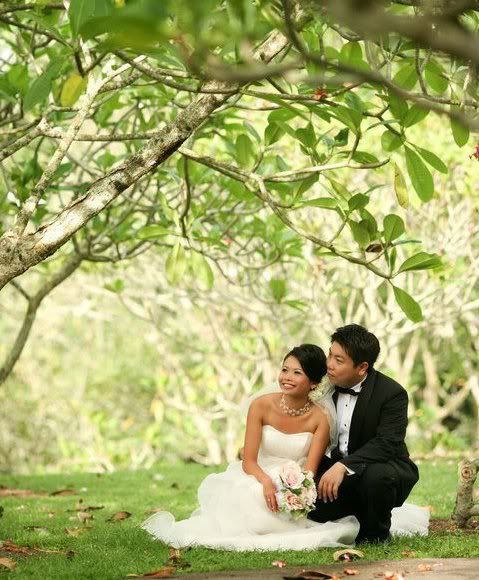 I was sad to have missed the wedding (of course I got an invite!) as originally there was a chance I'd be doing a training camp in Asia at this time, but life changes so much–me moving to Delaware, Ria taking a job in Hong Kong, and Li Ying getting MARRIED to Bernard. But I am soooo happy for my friends (yes, friends in real life now!) and really thankful that my job gave me the opportunity to meet such great people way on the other side of the world.
Congratulations Li Ying and Bernard!!!