Last night, it was my duty as resident pro athlete of the first state to mingle and network with my fellow Wilmingtownies. The Halloween Loop is a city-wide party with 21 participating bars and clubs, including a few right next door to me. I figured if they were going to be noisy and rowdy, I might as well join in on the shenanigans for at least a little bit.
So… I went as a Hellcat. "Hellcats" is a TV show on the CW network about college cheerleaders, kind of like "Bring It On" goes to college. Yeah, none of you could guess it because you probably don't watch it. I personally had never heard of it either, until I followed Alex Wong of "So You Think You Can Dance" fame on Twitter, then found out his brother Jeremy Wong is the token hunky Asian boy on this show called "Hellcats." Yes, we Wongs are all kinds of awesome.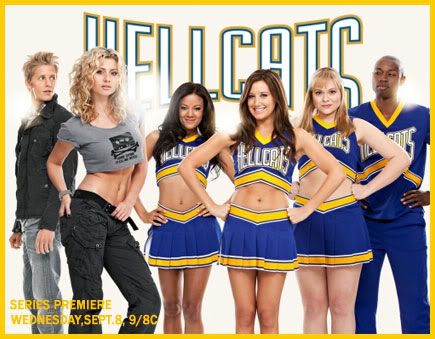 Then I was writing up a story for MSN TV on "Halloween Costumes Inspired by TV," and figured, why not. I'd always secretly wanted to be a cheerleader but in middle school and high school I would have rather died than admit that, or worse, actually go to auditions. They always had the cutest outfits and were so popular. And coordinated too. I always lacked the coordination. I still do. AHAHAHA. Anyway, Halloween is about dressing up as whatever you want to be. And if you're a girl, it's a rule that you have to be the super sexy version of whatever that might be.
So yes, I did make the outfit myself. As in, went to the fabric store and busted out the sewing machine. I haven't done Halloween with other "grown-ups" in a few years so it was a blast seeing everyone's costumes and I made a lot of new friends last night! I even met an actual former college cheerleader who was in her old uniform. And she said my outfit was so realistic she couldn't believe I made it myself!
I met other TV-inspired costumes… like sexy Teenage Mutant Ninja Turtles…
A little blurry, but there was a sexy Ghostbuster…
Bert and Ernie from Sesame Street:
Bender the robot from Futurama:
And of course other pop culture-inspired costumes!
Hope everyone had a fun and safe Halloween! Rah rah rah!