I was born on a Wednesday. This is easy for me to remember because I was born on Thanksgiving Eve, you know, the day before America's unofficial National Eating Day. Thanksgiving always falls on the last Thursday of November so every now and then, like this year, my birthday is actually on Thanksgiving. So I've also associated my birthday with a big holiday where you eat with family to the point where you are overstuffed. This probably explains why I am so enamored with food.
When you grow up as the first generation of USA-born Chinese-Americans (they call us "ABC's")with parents that immigrated to the USA as teenagers, family holidays are an awesome blend of the various cultures. Of course you then think that your version of Thanksgiving is pretty normal but the more I grill my non-Asian friends and watch some standard TV commercials for Thanksgiving, the more I realize that everybody's got a different version of what they eat for Thanksgiving. So I figured I would share with you what the Wongstar family version is like…
Everyone knows there is the turkey. Now the white people* version of Thanksgiving turkey is baked in the oven with stuffing, which is like soggy squishy bread crumbs, and eaten with cranberry sauce. I don't think I ever even had stuffing and cranberry sauce until I went off to college and the dining hall had a Thanksgiving meal for us. We used to bake the turkey too, until we started deep-frying it years ago, and now we usually have deep-fried turkey. Asian people like deep frying birds.
I was discussing with my friend Natalie, who is half Korean and half white, about what a Wongstar Thanksgiving is like, and her conclusion is that my family single-handedly slaughters the entire animal kingdom. See, we don't just have turkey. Sometimes we have 5 different kinds of animal. Turkey, pig (honey-baked ham), cow (prime rib), fish (salmon), and sometimes chicken and even other sea creatures like crab. What, you mean you don't have a billion different kinds of meat at your Thanksgiving? Maybe it's a Chinese thing, like how if you've ever been to a Chinese wedding it's a 15-course meal with every animal and sea creature imaginable.
I've been watching TV more these days with my other job as a MSN TV freelance writer, so I started paying more attention to the holiday commercials. Something called "green bean casserole" kept coming up for Thanksgiving ads and then I started hearing about it on the radio and seeing it when local restaurants were advertising Thanksgiving catering options. A quick Facebook and Twitter query to my friends and fans ("What is this green bean casserole? Is this a white people thing?") drew so many responses that I had to investigate. Here's the official Campbell's Christmas commercial. Apparently it's not just a Thanksgiving thing but a Christmas thing. Who knew!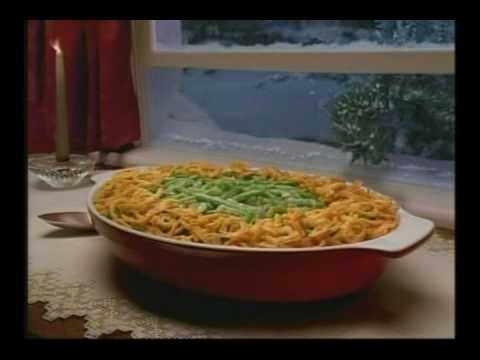 We have never had green bean casserole for Thanksgiving, but apparently it's a Thanksgiving staple, and TOTALLY a white people thing. Momma Wongstar actually knew what I was talking about…because she too had seen the commercials. Well I like green beans, adore onion rings, and loooooove bacon (!!!). Cream of mushroom soup is pretty good too, and now that my curiosity was stoked, I decided I would make it for our own Thanksgiving. Well, white people like to make it with canned green beans, which is unacceptable for Asians. So I made it using fresh green beans and instead of using canned French-fried onion rings, I got real onion rings from the place that has the best onion rings…Johnny Rockets!
I'll have to post the recipe up later, but it was a smash hit! Ok, I'll admit that it ended up being a bit light on the green beans and heavy on the onion rings…heck, it was more of an onion ring casserole than a green bean casserole. But we demolished it!
In addition to the entire animal kingdom and onion ring casserole, there was also our other standard Thanksgiving fare like my sister's garlic mashed potatoes with mushroom gravy, and Chinese stir-fry veggies and some sort of Chinese soup.
Then there was dessert. Variety is the spice of life and a Thanksgiving birthday feast is not complete with a ginormous selection of dessert. We had 5 different types of cheesecake, chocolate cake, pumpkin cupcakes and 4 types of mini shot glass desserts (chocolate mousse, tiramisu, lemon meringue, and something raspberry).
SOOOO awesome. Best Thanksgiving birthday ever! I hope all of you had a great Thanksgiving too!
*on the use of the term "white people": hey, the Wongstar never claimed to be politically correct. Would you really prefer if I said "Caucasian"? Really? It's such a funny word. It's like "Cock + Asian". If you are offended, don't read my blog. The Wongstar doesn't apologize for the truth.