Winter has more or less hit the first state and this California-born-and-bred triathlon superstar is trying not to cry and complain too much about her first winter on the East Coast. Yes, now I know why everyone back home laughed at me when I told them I was leaving California for Delaware. Now I also know why everyone in Delaware laughed at me when I told them I left California to move here. Coach would call this "building character." I try to keep the whining minimal and am looking forward to building my first snowman complete with a carrot nose.
Check out tomorrow morning's forecast…scattered flurries!
Makes me think of McDonald's McFlurries, which makes me think of my favorite Australian teammate who shall remain nameless.
The official IMAZ race report is in draft form at the moment as I have more pressing issues at hand, like organizing The Bike Boutique USA's very first Kona Viewing Party (Facebook invite is here). I've also been working hard on the first edition of the official Bike Boutique USA newsletter, with all kinds of fun stuff including the official party announcement. Here's a preview, click on it to see the full thing. Pretty snazzy if I shall say so myself!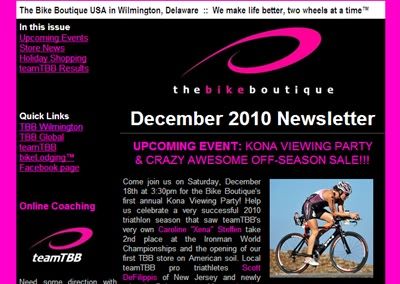 The NBC broadcast is on December 18th and it's going to be AWESOME!! Door prizes, raffle drawings during commercials, a super duper ridiculous one-day sale… I also foresee bottles of Haamonii Smooth Shochu being shared, and special drinking games like "take a shot whenever you see a TBB race kit!"
Stay warm kids. Or stay indoors and watch 8 episodes of the West Wing, like I did today.