It's been over 3 weeks since my last race at Ironman Arizona. As Coach would say "that was an entire career ago." I've been super busy ever since with other work obligations and getting back into full off-season training (not an oxymoron) in the McFlurry-esque Delaware winter, so I've also been tired and uninspired.
So I began writing a simple photo version with some captions since I have soooo many racing pictures from IMAZ. Then it got longer and I found some writing inspiration again. So here is the "short" photo version. Of course I realize a "short" version for me is probably still longer than most other people's.
And there's always the video mini race report recap that Felix shot…
So I swam really hard. I was very excited to stay with a small pack and pretended I was chasing my swim buddy, Zeke, just like in training. He wears a hot pink swim cap every now and then. I just kept saying "stay with Zeke, stay with Zeke!" When the sun came up a little more, I realized it was my friend Miranda. In the beginning of the year I was able to swim with her at IM Malaysia and IM China, but only for maybe 75% of the way before I dropped off. So I was super stoked to get out with her and of course 10mins faster than what I've been averaging all year!
These photos are from my old Harvey Mudd College classmate Tom, who lives in Phoenix now and signed up for next year's race. You can tell how happy I am about my swim, can't you?
At this point, I didn't even realize I had come out of the water in front of 5 other pro women and 2 pro men. I was just really happy I went 1:06!
Apparently I was giving the thumbs up to the official photographer:
Then I got on the bike, and even though it got to be pretty rainy and super windy with a little bit of hail, I am a gun biker and can stay in the aero position through all of nature's elements. Here is photographic proof…
There were cacti. Which is plural for cactus.
Ok, I admit, I got slightly out of aero position only when reaching for more Hello Panda cookies in my back pocket.
I felt strong, and magical, and high on caffeine.
I think I passed like 5 or 6 pro women on the bike? I felt pretty darn good even though the bike training has been thrown on the back burner to make room for swimming. 5:16 is my fastest bike split this year!
Then I got to start running. I was feeling good and very happy. Are you ready for a montage of happy running pictures? Here you go…most of them courtesy of the Ritenours, one from "Burrito Fanatic" on Twitter:
I was super extra pumped because I had my very own cheer squad that included my MOM…who hadn't ever seen me race in the pro division…and the Ritenours, who hadn't seen me compete since I was a scrawny prepubescent high school runner.
These don't even include all the photos that my personal camera crew Felix was taking…I'm sure you'll get a load of those soon too! Here's a cool shot of me from overhead:
Around mile 5, a guy on a bike passed me.
Then if you thought I was looking good and smiley, I heard a voice with a British accent say "good job Jocelyn…we haven't actually met yet…" and a flash of red went by:
I was so surprised that all I said was "oh!" and then as an afterthought "good job, Chrissie!"
Let it be known that no other women lapped me.
And I was still feeling good on the second lap (there were three laps):
Then I hit a rough spot that third lap and wasn't so smiley any more.
At which point I focused on digging in, breathing properly and channeling my inner Chinese warrior. I had just watched the movie "Hero" with Jet Li during my last week of training going into the race, so I thought of myself as "Flying Snow." (My Chinese name means "snow.") Here is the awesome fight scene between the two women warriors, Flying Snow and Moon. I even found the version with the English dubbing: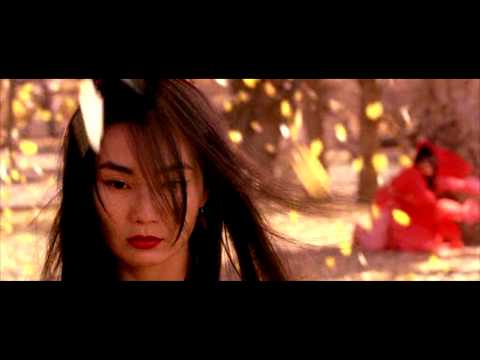 It's kind of bizarre the things you think about when you are hurting in the middle of an Ironman, and what gets you to the finish line. Some say this is when you find out what you are really made of. So what got me through? I kept repeating "Chinese warriors never give up. They fight to the death." And that lit something inside of me, and motivated me to keep fighting. Who would've thought? BTW, Flying Snow is the one who wins the fight. Though if you notice, Moon doesn't give up even when stabbed with a ginormous sword through her chest. Epic!
I took off my mostly full second Camelbak during the third and final lap because I was sick of drinking Frappuccinos at that point and it was cold anyway, so hydration wasn't exactly an issue. There was a bit of grunting and some "on your left!" since the course was getting a bit busier by then. I was pretty happy to hit the finish chute and the smile came out again:
And then I got to be done! I was so happy!
My 3:34 marathon wasn't my best, and I missed breaking 10 hours by 5 minutes, but it was my fastest race all year and I am still very happy with it. Like the bike training, the run training's also been on the back burner and I had told Coach in September that if I had a great swim but a crappy bike and run in Arizona, I would still be over the moon. I didn't realize until later that there were at least 6 Ironman champions that beat me, world champions and all that, so 12th pro in this field I am quite happy with too. And finally, no age groupers beat me. So there!
I ended the 2010 season feeling somewhat more justified racing in the pro ranks.
I'll do a season recap in the next few weeks; in the meantime, big ginormous thanks to all my supporters and sponsors!