February 2nd is Groundhog Day. I remember learning about this erm, "holiday" when I was a kid–something about a groundhog coming out of the ground and whether he sees his shadow or not means that spring will come earlier or later.
Now this never really meant anything to me as I've never really lived anywhere before where an "early spring" mattered. I mean, winter kind of just blended into spring and summer, most especially in California. And I'm not sure I've ever actually seen a real live groundhog with my own two eyes. It's supposedly like a ginormous gopher. (We have gophers back home.) I think if I ever saw one I might be seriously freaked out.
So now I'm living somewhere wishing spring would come soon, so the snow and ice and slush can melt and I don't have to worry that I'm going to slip on ice and wreck myself. Just this morning I was thinking I need to invest in some waterproof snow boots, and wondering, do they come with half-inch track spikes? My high school had a dirt track but they are finally getting a new rubber track this year (yay) and the hurdlers and sprinters got to wear the giant half-inch spikes on their track shoes, would be useful here on the ice, methinks. Oh yeah, and now I understand all the stories of senior citizens fracturing their hips during winter by slipping on ice. mmm-Hmm.
Well then, so the whole groundhog telling us if spring is coming early this year? I was suddenly all very interested. I didn't even remember how it went until I looked it up today–if he sees his shadow does that mean spring is coming earlier or later? Good news today! He did NOT see his shadow, which means that there will indeed be an early spring.
Good thing he probably looked for his shadow this morning, because by the time I finished the indoor bike part of my brick, it was sunny out and the roads dry enough that I got to do my run outside. I *only* needed one pair of tights (not two), one pair of socks (not two), a running cap instead of a beanie, no little hot pockets (that's what I call the hand warmer things) and no ski mittens. I didn't have to wear a fleece jacket either. It was awesome and I felt super rejuvenated.
I've been struggling a bit with staying motivated when the weather's crap and just looked at the monthly weather averages for Wilmington a few days ago…turns out that January and February are the two coldest months. Now that January's over, I can say I've survived the coldest month here! It can only get warmer. I like how from February on, the average temp jumps up 10 degrees every month up to June.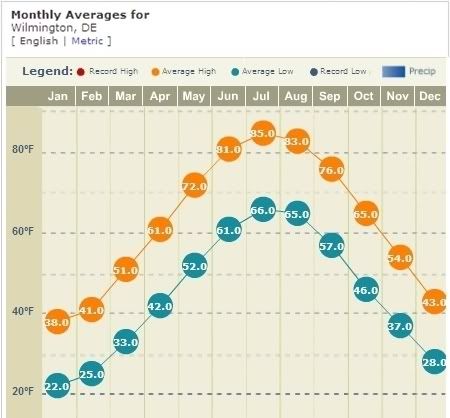 So my first Ironman of the year is most likely going to be IM China at the end of May, and holy crap, that's six entire months with no Ironmans (!!!), what the heck am I going to do with myself?! Soooo, I have signed up for a marathon in early March which gives me something to look forward to. Somewhere warmer. Stay tuned. By the time I get back, it'll be March and high time for outdoor training again! Yippee. In the meantime, I just have to get through February. Winter Blues be damned.