What's way more exciting and important than silly ole Groundhog Day? CHINESE NEW YEAR! Wahoo! Happy Year of the Rabbit! Here is my new favorite Sanrio bunny, Kuromi:
Which comes with a superstar secret tip on how to encourage yourself to stay hydrated: get yourself a supercute BPA-free water bottle. This bottle was under $10 at Target, by Thermos's "SIPP" line. I like how it looks uber trendy like a bottle of VOSS water you get at fancy nightclubs. Then I slapped on a Kuromi sticker (from Ebay) and now I loooooove it even more and want to drink water all the time!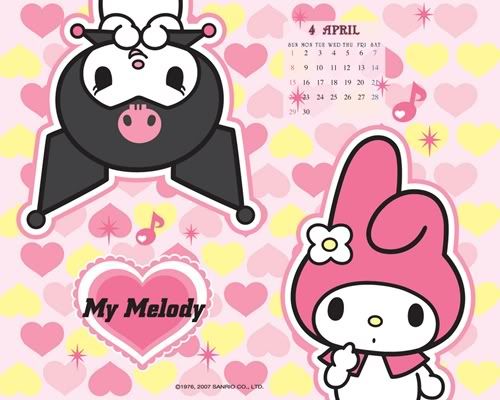 Kuromi is like the mischievous punk answer to the sweet pink My Melody (my childhood favorite). Here's what the Sanrio website has to say about her: "My Melody's friendly rival is a tomboy who loves making mischief and causing trouble! Although she may look tough, she is actually very girly and is attracted to good-looking guys! Kuromi enjoys writing in her diary and is hooked on romantic short-stories."
Aw how sweet. Making mischief, causing trouble, attracted to good-looking guys…just switch "diary" to "blog" and she sounds just like me.
Anyway, a Chinese New Year blog is incomplete without a proper Chinese horoscope forecast for 2011! Here is mine from Moonslipper.com:
"The Year of the Rabbit will be a much quieter year than 2010 for the Rooster. However, the Rooster will have to curb his natural exuberance and enthusiasm just a bit in 2011 and practice some patience and common sense.
On the work front, it will be vital for the Rooster to work closely with his colleagues and practice his networking skills. This will stand to him during the months of March, April, November and December when unexpected developments happen. All the work he does now on the career front will pay dividends in 2012, the Chinese Year of the Dragon. The Rooster should also consider any opportunities he may have to study or for training. This would go extremely well for him and again benefit him greatly later on in the year.
On the social and romantic side of life, this will be a much more settled and quiet year, which will be to many a Rooster's liking. March, July and August look to be the most active on the social scene. A word of warning though – the Rooster must take care to temper his words with friends and not be too harsh. A quarrel or end of a close relationship could result.
Financially, the Rooster may have a few home-related expenses this year with repairs, decorating and renovations. It would be wise to manage any project sensibly and shop around for the best deal; Chinese Rabbit years can be expensive for all signs. On the whole, 2011 looks like being a pleasurable and encouraging year for all Roosters."
Happy New Year everyone! Tonight I am celebrating with lychee martinis made from Haamonii Smooth Shochu. This weekend I plan to head over to Philly's Chinatown to see what kind of New Year shenanigans are going on over there and hunt down some authentic Chinese food. Maybe there will even be lion dancing and firecrackers which used to scare the bejeezus out of me when I was younger. I'm totally jonesing for some Peking Duck!