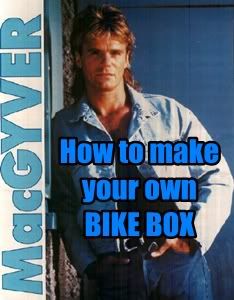 It's that time of year again! Time to break out the MacGyver skills and make another new bike box. Now, some people are freaked out that I travel with a cardboard bike box but hey, this is what they come shipped in from the factory, and I haven't ever had my bike damaged in my travels (knock on wood). For the amount I fly with my bike, it's all about skirting airline fees and not having to lug around an uber-heavy ginormous hard plastic case.
The bike box does get a bit beat up by the end of a year and I'm always trying to improve upon the previous year's design, so this is the third year I'm making my own bike box. Here are the previous designs:
Bike Box 2.0 (2010 Hello Kitty edition):
What you'll need to make your own:
1 cardboard Cervelo bike box
1 hot glue gun
1 staple gun
duct tape in various pretty colors
butcher paper…or grocery store advertisements
a sharp razor blade knife thing
While shopping for a staple gun at Sears, I got a bit distracted by their huge winter coat clearance sale. I found two I absolutely loved and couldn't decide which I loved more, so I decided on: BOTH. (When in doubt, the answer is always both!) After all, they were both about 85% off…you can't argue with getting two coats for under $20 each that are originally over $120. Plus the sales guy in the tools & hardware department told me I didn't need a fancy electric staple gun for cardboard, so I got two coats AND a manual light-duty staple gun for less than the price of a heavy-duty electric staple gun.
Like a good Asian, I love a good deal.
But I digress.
I didn't have butcher paper, so first I traced an outline of my Cervelo P3, White Tiger, on grocery store advertisements. Then I made a pattern so I could make the smallest conceivable box and have it fit within the 62-linear-inches parameter.
See, because airlines aren't supposed to charge you for bikes if they come in a box whose total dimensions add up to 62 inches. I'm not a short girl with a peewee size bike–I ride a 54cm frame–so this proves to be a challenge. This is the first time I'm taking the fork off in the bike-packing process but it's necessary.
The plan is to make a mock-up version out of this cardboard (which is like a quarter-inch thick and is essentially doubled when made into a clamshell-like box) and then do a final version out of corrugated plastic.
Stay tuned for more!