This is kind of old news but in case you hadn't heard, I was profiled in the May issue of Triathlete Magazine! I was pretty excited last month when I finally saw a paper copy of my interview at the Bike Boutique:
It was my first big interview with a tri magazine so I was pretty stoked. Here is a digital copy of it (click on it to make it bigger):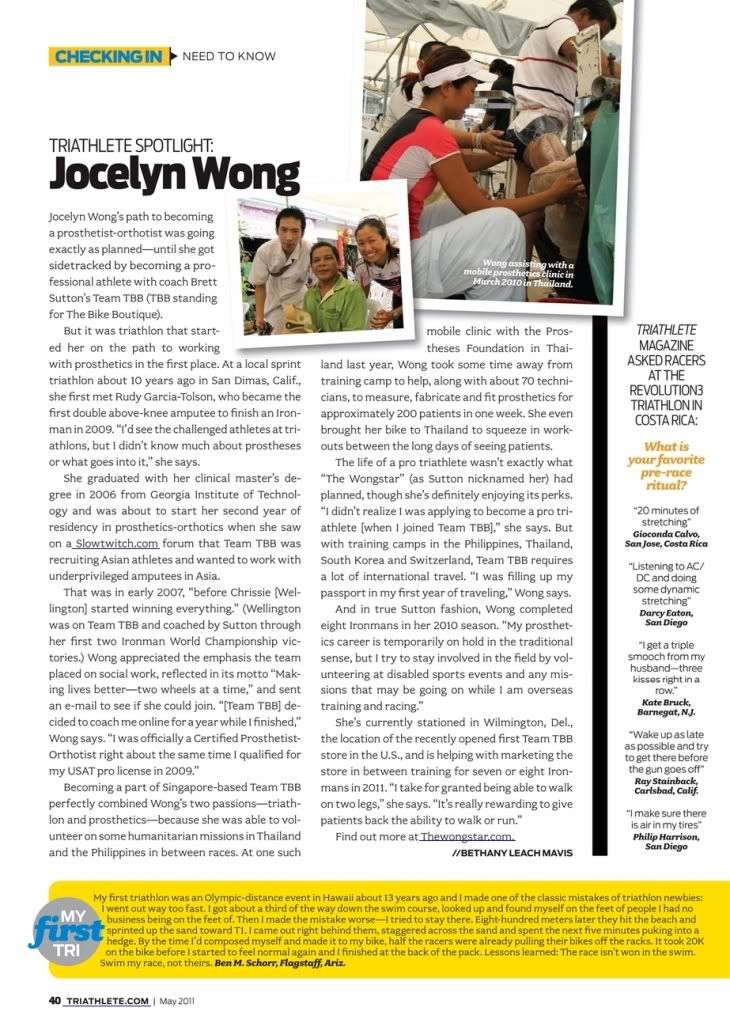 It's about my other career as a certified prosthetist and involvement with teamTBB, and a bit about the work I did at several prosthetics clinics in Thailand and the Philippines while I was at training camps. I've missed working in this field and so last weekend took a little trip up to NYC (site of the just-announced US Pro Ironman Championships next year!). The Challenged Athletes Foundation and Ossur (the prosthetic foot company that makes those cool carbon fiber sprinting legs) were sponsoring a running clinic for lower-limb amputees so I thought I'd go check it out.
It also gave me the chance to catch up with Carolina, my best friend from when we lived in Dallas. We were both a little miserable there but managed to escape.
Here we are in a clash of outfits as she was heading off to watch a polo match while I went off to the run clinic!
At the run clinic, I got to catch up with some familiar faces: Dr. Bob Gailey who wrote a bunch of chapters in our prosthetics textbooks, Peter Harsch who is also a certified prosthetist and an accomplished age grouper Ironman athlete, and Sarah Reinertsen who I met back in 2004 before I headed off to grad school (first woman to do Kona with a prosthetic leg). If you watched The Amazing Race on TV back in 2006, you might recall that Peter & Sarah competed on a team together!
It was so cool! There were about 5 little kids, 10 adults who wanted to try running for the very first time, and another 10 adults who were very active and put in the "advanced group".
I got to help Peter run the advanced group and give them some of my best running tips. I even told them about my magic running sticks.
At the end, all the groups got together to do a relay race on an obstacle course!
There were plenty of photo ops with CAF celebrities. Always an inspiration!
I plan to head back up to NYC on August 7th as the NYC Triathlon will be hosting the Paratriathlon National Championships!