We most definitely got the super hot day I had wanted. I killed myself on the swim, slaughtered myself on the bike, and reeled in 5 women on the run to get into the top 5 for a while…only I didn't know this because the 5th place bike escort was with a fast age group woman.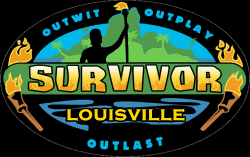 Then I too succumbed to the heat and slipped down a spot with 4 miles to go. It was seriously like being on Survivor. My solid 8:20′s were slipping into 9′s then 10′s then 11′s and I was fantasizing about cold showers and walking…so I made a giant pit stop at an aid station, threw at least 10 cups of water over myself and threw down 5 or 6 Cokes. Somehow I came back to life and gutted out the rest of race to try and make back some time…absolutely left everything out there on the course. I was the crazy girl making obscene grunting noises because I was going so hard and refused to just give up and jog it in.  Quite honestly I could not have gone any faster. Effort-wise definitely one of my best (if not the best) and 6th pro is my best finish on home soil so super happy with my race.
More details to come in the full-length race report…
Big thanks for all your support!