PRE RACE: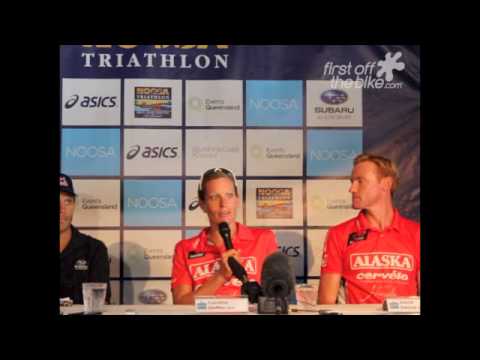 RACE DAY:
This was another absolutely unique raceday at the Noosa Triathlon Festival. My 3th start at one of the biggest tri shortcourse events in the world.
Unfortunately we had some rain this year which means there was a little crash-festival going on, on the technically demanding bike course. Out of the water in 5th position I made my way true the field and took the lead after the turn around, with 20km to go, Liz Blatchford and myself worked hard and made a 90seconds gap to the other girls. Neck to neck, we start running together. Oh honest, it was great fun to run with someone for once and not getting droped after couple of seconds. After 6km strong runner Ashleigh Gentle fly by us and 2km later the same did Ryan Fisher. I finished the race in a good 4th place with a personal best on this course.
Thanks everyone for cheering even the weather was miserable!!!
TOP FIVE PROFESSIONAL RESULTS:
1. Peter Kerr (AUS) 1:46:35
2. Ryan Fisher (AUS) 1:46:51
3. Taylor Cecil (AUS) 1:47:25
4. Courtney Atkinson (AUS) 1:47:39
5. Kris Gemmell (NZL) 1:48:03
1. Ashleigh Gentle (AUS) 1:58:57
2. Felicity Sheedy-Ryan (AUS) 2:00:24
3. Liz Blatchford (GBR) 2:00:41
4. Caroline Steffen (SUI) 2:01:05
5. Nicky Samuels (NZL) 2:02:14